Welcome to our Online Open Day!
... equip yourself with the skills necessary to succeed in the international business environment of the 21st century?
... know how to manage a superior hotel, an airline or a tourist agency?
... know how to transfer your innovative idea into a successful business?
The Faculty of Economic and Business Administration and its international programmes have the answers

The Faculty of Economics and Business Administration is one of the twelve faculties of the University of Szeged with an excellent international and national reputation. The faculty's first Bachelors' programme in English - training skilled professional economists - was first launched in 1999. The faculty has been taking on more and more international students each year and has been building a truly international academic community within its walls. The faculty's BSc, MSc and PhD programmes are highly regarded worldwide and provide reliable and up-to-date professional knowledge and practical experience for students. For more information visit the Faculty's website.

Click on the photo for more pictures about the Faculty.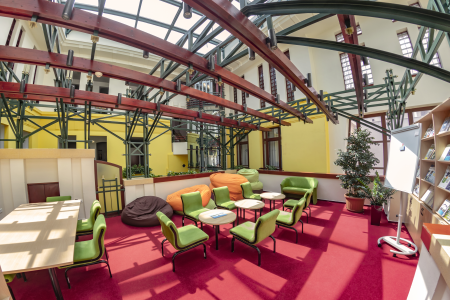 Programmes Available for International Students
· Business Administration and Management (BSc)
· Tourism and Catering (BSc)
· International Economy and Business (MSc)
· Economics (PhD)
Career opportunities

Graduates of the Faculty may find a position in various sectors ranging from sales development representative to controller, digital business development manager to financial analyst.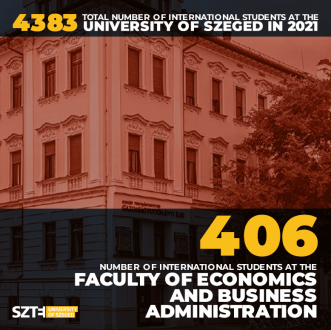 International Relations
The Faculty of Economics and Business Administration has a wide range of partner institutions within and outside Europe, from Canada to Japan, from Spain to Finland and many more.






Student Services of the Faculty
The Faculty of Economics provides a wide range of services to international students in order to help their academic, cultural and social integration:

• Supporting international students in entering academic competitions (with special emphasis on the National Scientific Students' Association's competition (OTDK);

• Supporting the founding and operation of student clubs;

• Creating and maintaining teacher mentoring;

• Managing cultural differences and other related difficulties by creating and maintaining a network of mentor students (both Hungarian and foreign students may apply to become mentors);

• Organizing student excursions for international students in order to familiarize them with Hungarian culture and also their Hungarian fellow students;

• Organizing integrated student events;

• Maintaining programmes to minimize the loss of students due to academic and performance issues: mentoring, organizing common study sessions, counselling for students in difficult situations, tutoring.
See the Student Services of the University of Szeged here, and watch the video about the Faculty below.
Faculty of Economics and Business Administration UNIVERSITY OF SZEGED 2022-2023

Application Requirements in General

The process of Application at the University of Szeged happens via an online application platform called
DreamApply.
Learn about
the application process in general here
and about the specific requirements of the programme
here
.
Scholarships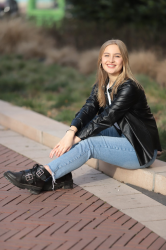 Meet Tatiana from the Faculty of Economics and Business Administration

"My name is Tatiana and I am from Russian Federation, from Republic of Karelia, Petrozavodsk. This region is famous for its picturesque landscapes, waterfall Kivach and marble canyon Ruskeala. I'm studying at the Faculty of Economics and Business Administration for my Master's Degree. My major is International Business and Economics and I'm currently a 1st year student. Choosing the University of Szeged as my study destination is the result of deep searching to find out why SZTE is so famous and respectful. I found out that the University of Szeged is one of the greenest universities and it is on the top 500th of the best universities in the world. Also, I learned a lot about the modern library in Szeged and the talented professors at the faculties and realized that it's going to be the perfect place for my study. I would like to advise the prospective students to be decisive and stubborn in all possible projects and competitions. Try to catch every opportunity to participate in different activities. Don't waste your time, just be aware of all things around you and the most important thing is to make as many friends as you can. It's going to be priceless benefit in your future life. After graduating and obtaining my degree, I am planning to stay in Europe. After my experience in Szeged I have come to the conclusion that this is the best atmosphere for living and self-development. I would like to stay in an international environment and maybe set-up my own business somewhere in Europe."