Welcome to our Online Open Day!
Do you know in how many areas of industry, business, and science Mathematics is involved?
Do you want to follow in the footsteps of Covid-19 vaccine inventors?
Do you want to study Chemistry at the university where vitamin C was discovered?
The Faculty of Science and Informatics and its international programmes have the answers.

Our long history started with the foundation of our predecessor, the Faculty of Science and Mathematics in 1921 when the University of Kolozsvár moved to Szeged.
Teaching and research activities are divided between the institutes and departments within the Faculty. We have six institutes, each of which can be regarded as a partially independent teaching and research unit:
• Institute of Biology • Institute of Chemistry • Institute of Geography and Geology • Institute of Informatics • Bolyai Institute of Mathematics • Institute of Physics
There are 7 Doctoral Schools these are: Biology, Chemistry, Computer Science, Geosciences, Environmental Sciences, Mathematics and Physics. Read more about the Faculty on its website.
Click on the photo for more pictures about the Faculty.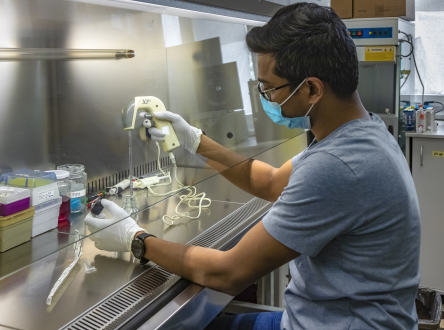 Programmes Available for International Students
Career Opportunities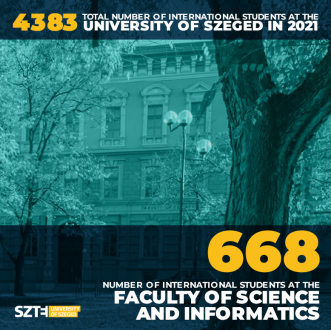 Graduates of the Faculty have wide range of carrier opportunities:
Positions in Applied Analysis, Industrial Mathematics, and Financial Mathematics.
Research positions in universities, in the pharmaceutical or agricultural industry in sectors of IT, such as: software development, artificial intelligence, computer science, image processing and optimization.
Student Services of the Faculty
ESN Mentors, as members of a non-governmental, volunteer-based student organization in Europe, are volunteers who help foreign students settling down in Szeged. They help newly arrived students starting their academic and social life at SZTE and Szeged. ESN and their events bring international students closer to the local community and last but not least, they make friends with them, all in order to provide opportunities for cultural understanding and self-development under the principle of students helping students and to build a more peaceful and unified Europe of tomorrow.
The faculty offers for its students intensive practical trainings, extensive scientific and industrial partnership in the international projects of our institutes, research possibilities in the Szeged Biological Research Centre and collaboration with the ELI-ALPS Laser Research Centre, an integral part of European scientific research institutions.
See the Student Services of the University of Szeged here.
Faculty of Science and Informatics UNIVERSITY OF SZEGED 2022-2023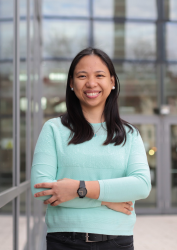 Meet Dianne from the Faculty of Science and Informatics

I am a PhD student and a Stipendium Hungaricum scholarship holder from the Philippines. I am currently pursuing my PhD in Environmental Science and I happen to be in my 3rd year of studies. I chose University of Szeged because its one of the top ranked research university in Hungary known for its good reputation in the fields of health and natural sciences. Coming from the Philippines with a warm climate, I had huge preference of Szeged for my studies, the city having the most rays of sunshine and considered to be the warmest place in Hungary. I would advise all the prospective students to join University of Szeged's diverse and vibrant community! Don't be afraid to leave your comfort zone, try to find and establish your niche in a new place like what I did. I didn't regret coming to Szeged as it continuously provides me an enabling learning environment for various reasons, has affordable cost of living, very safe and calm university town, organized transport system, beautiful and clean surroundings with the very sightly Tisza River which adds to its appeal, and also holds many festivals throughout the year. After graduation, I am planning to go back to my home institution and continue my teaching duties at the University of the Philippines Los Baños.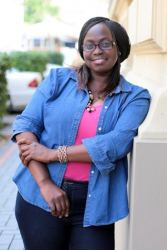 Mett Lillian from the Faculty of Science and Informatics

"My name is Lillian Oluoch, a Kenyan lady studying at the Faculty of Science and Informatics, Mathematics Department. I was studying Stochastic at Ph.D. Level. Before coming to Szeged, I was a High School teacher of Mathematics, and I really understand the attitude of most the girls have towards Mathematics. This myth that mathematics is only meant for the boys needed to be demystified. I took up this challenge to prove that this was a wrong belief and we need more girls to take up the challenge too. I hope to be a role model for the girls and offer assistance where needed. I get fascinated with the intricate world of data and based on mathematical science; we are able to understand both the current situation and future scenarios rationally. As much as I find pure sciences intellectually stimulating, I strongly feel that Statistics possesses a unique appeal due to its practical applications. For this reason, I had a dream of pursuing Statistics as one of the solutions to our practical problems. To achieve this, I considered an institution that can offer quality education and research on this line, and that was none other than the University of Szeged. This institution has given me the opportunity to become a productive member of a civilized society by equipping me with all the necessary skills to meet challenges and overcome obstacles. I have also learned how to become an integrated personality and maintained the perpetuation of our culture. I am proud to be associated with SZTE as the best University in Hungary according to QS World University Rankings and of course "Greenest" Hungarian university according to UI Green Metric World ranking. Moreover, meeting students from all walks of life is such a privilege. The friendly hosts also make me feel at home while being miles away from home. I hope to graduate with a doctorate degree and go back home and serve my country in the public sector and also to continue with my research work."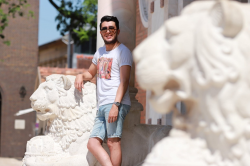 Meet López from the Faculty of Science and Informatics
"My name is José Vicente Egas López, I come from the colourful city of Quito, the capital of Ecuador. I studied MSc in Computer Science at this beautiful university too and currently I am doing my PhD in Computer Science here. Back then, with the opportunity of continuing my studies in the field I love, Artificial Intelligence, I decided to follow the doctoral program. And here I am, still enjoying the unmatchable Szegedi atmosphere which serves me as an everyday boost in my research! Proud of being part of the best ranked University in Hungary, in the future I'm sure it won't be a struggle encountering an opportunity that fits to me regarding my field of expertise and what I have passion for. Hungary provided an experience that has positively marked my life, both personally and academically. Thus, I wouldn't change anything even if I could; I'm happy to live and to study in this Land!"