The Béla Bartók Faculty of Arts dates back to over 125 years and is the smallest faculty of the University of Szeged. We are still internationally noted for our musical and teaching excellence and we have an outstanding reputation within Europe and we are one of the leading musical higher education institutions in Hungary. In addition to offering Preparatory Year Programme, Bachelor and Master programmes in Performance we are working on ensuring that our students get the best education, this is why 75 % of our programmes are practice oriented. The Faculty is to be found in the heart of the town and the University Campus. Within 2 minutes walk you can find the University Library where you can study and broaden your knowledge. Relaxing and good food are just around the corner too with numerous pubs, cafes and restaurants nearby.
Click on the photo for more pictures.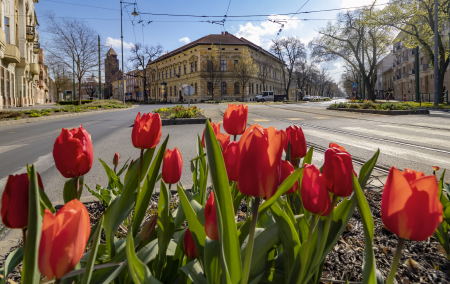 Programmes Available for International Students
Specialisations: piano, violin, guitar, flute, trombone, classical singing
· Classical Musical Instrumental Performance (MA)
Specialisations: piano, violin, viola, cello, guitar, flute, french horn, trombone
· Preparatory Year of the Béla Bartók Faculty of Arts
Specialisations: Piano, Organ, Harpsichord, Harp, Violin, Viola, Cello, Double bass, Guitar, Oboe, Flute, Clarinet, Bassoon, Recorder, Trumpet, French horn, Trombone, Tuba, Percussion, Singing

Career opportunities
Graduates of the Faculty pursue careers in orchestras, in chamber groups, or as solo artist.
International Relations
The Erasmus is one of the most successful and best-known programmes that has helped the mobility of over 3 million university students within Europe so far. According to the one-time Erasmus students, their experiences gained during the Erasmus programme enhanced their chances of finding a job after graduation. In case you would like to spend one or two semesters at the University of Szeged please make your inquires at the sender institution or visit the University's Erasmus website.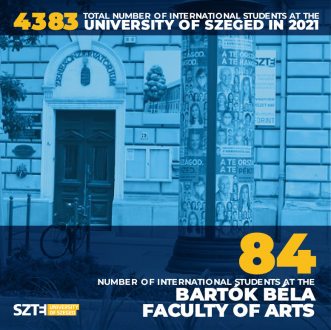 Student Services of the Faculty
We are like a big family where the members of the International Office and the teaching staff act like mentors from day one. We also offer some musical instruments for rent to make the life of our students easier. Being focused on bringing the best to our students, the Béla Bartók Faculty of Arts goes to great effort in bringing international concerts, masterclasses, ompetitions and festivals to Szeged. Our Faculty also offers many performance opportunities both on and off campus. You can get the chance to perform in the National Theatre of Szeged and in the famous Open Air Theatre of Szeged. Apart from the academic life here at our family-like Faculty it is easy to make friends with whom you can enjoy the vivid cultural life offered by the city. Students with Hungarian Governmental Scholarship are accommodated in students' dormitory.
See the Student Services of the University of Szeged here.
Béla Bartók Faculty of Arts - 2021/2022