Santiago Vallejo - Faculty of Law and Political Sciences
I'm from Ecuador and a Ph.D. student from the Stipendium Hungaricum scholarship program. I first heard about the University of Szeged on the internet. The general study environment is nice and student life in the city is lovely. With my program and the academic system, I can control my time which is a plus. The city is very affordable, and I live in the city center. One of my favorite extra-curricular activities is the Hungarian cultural programs. I have so many favorite spots, but parks are top on the list. The professors and staffs are very approachable. The mentors and classmates also did an excellent job to explore and know the city better. I hope to continue my career as a professor, and I would recommend the university to friends because it is, in general, a beautiful place.


Simson Ndadaleka Shaakumeni - Faculty of Humanities and Social Sciences - PhD Studies
I heard about Stipendium Hungaricum from a fellow countryman. I would love to teach at a university one day, but a Doctorate degree is often required in order to do so. That is why I came to Szeged, where I am currently working on my doctoral thesis in educational science – my special field of interest is scientific literacy of students. Life is completely different in Namibia; it is mostly a rural country and agriculture is still hardly mechanised and many homesteads in villages in the countryside are built of wood. The weather is totally different from the one in Szeged, the cold and icy weather caught me by surprise after returning from Christmas holiday, I didn't have proper shoes so my feet were constantly freezing.

Andi Rahmat Saleh - Faculty of Humanities and Social Sciences - Ph.D. Studies
I'm a Ph.D. student from Indonesia and a Stipendium Hungaricum scholarship student. I first heard about the University of Szeged from the Tempus Foundation university list with excellent program descriptions, and it caught my eyes. My student life has been a pleasant one because of the beautiful environment, and TIK library facility. The teachers and staffs are accommodating, and my mentors and classmates also contributed to exploring the city with pleasant memories. The city is very affordable, and I live in a shared flat very close to the city center. In my free time, I engage in sporting activities or watch movies. My favorite spot is the Dugonics square, but my best attraction is the Tisza River. The University of Szeged is a beautiful experience for me, and I will recommend it to my friends. I am happy to be part of the University of Szeged.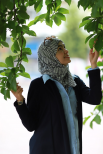 Imane Cherbi - Faculty of Humanities and Social Sciences
My name is Cherbi Imane and I am 23 years old from Algeria. I am spending my last semester at the University of Szeged Faculty of Humanities and Social Sciences. Being an MA student of Applied Linguistics, University of Szeged offered me a chance to gain sufficient knowledge about my field of study. I choose the University of Szeged simply because it is a highly ranked academic institution both nationally and internationally; also because of the variety of programs that they have for international students.
I love everything in Szeged: every corner of every street, I will always keep them in my heart. I take photos of the city when walking around and I am planning to launch a blog to promote this beautiful corner of Hungary among international students. People of Szeged are caring, always smiling and we are living peacefully together. I have never felt isolated or neglected. As a coffee lover, i always enjoy having my favorite type of coffee in different coffees in Szeged. Lookin for calmness and nature vibes, I would certainly walk by the Tisza river whenever I want.


Matheus Vasconcelos Goes Mendes – Faculty of Medicine - General Medicine
I'm from Brazil, but I feel very comfortable in Szeged. Attending the courses, I acquired thorough knowledge, which was helped by the well-equipped labs, and the modern library of the University. Despite the hustle and bustle, the town is still safe, the quality of life is considerably high, and we receive every assistance to fit in, such as excellent program administration or help searching for accommodations.