Welcome to our Online Open Day!
how can virtual reality technology improve balance control?




how does physical activity help with metabolic syndrome?




how can poor posture cause back and neck pain or even headache?

have you always wanted to know what the methods of nutritional assessment are? or how diabetes can affect wound healing?
The Faculty of Health Sciences and Social Studies and its international programmes have the answers!

Social Studies aim to train professionals with the highest level of European theoretical and practical knowledge in the fields of prevention, paramedical treatments, rehabilitation and health promotion. For several decades, our Faculty has been training nurses, physiotherapists and social workers and nowadays dental hygienists.
Our programs consist of different supervised clinical placements for developing professional skills. Being practice-oriented professions, the practical courses take place in small groups. During the study time students have the opportunity to get acquainted with special complex therapeutic methods. For more information go to the website of the Faculty.

Click on the photo for more pictures.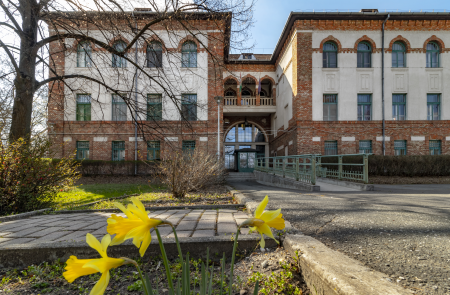 Programmes Available for International Students
Physiotherapist BSc
Physiotherapy is a very popular and highly sought-after profession worldwide. Physiotherapists can work in prevention, health care and rehabilitation fields.Further information is available here.

Nurse BSc
Nurse program provides theoretical and practical knowledge of nursing science. The nursing degree acquired in our institution is equivalent to degrees earned in other EU countries. Further information is available here.
Career Opportunities
Nurses are in demand in a variety of work settings besides bedside care in hospitals or private practices, so if you have a nursing degree, chances are you will be able to find a position suited to your skills and interests. Nurses have the option of working in hospitals, long-term care facilities, clinics, physician's offices and in many other specialty roles.
The Nurse Bachelor's degree is accredited in the European Union. There is no need to take an evaluation examination to work in EU countries.
Physiotherapists also enjoy a broad array of job opportunities. They can work in health and social care facilities, such as hospitals, care homes, rehabilitation centers, private practices etc.
International Relations

The University is one of the 5 members of the European University Alliance for Global Health (EUGLOH). Our partners are: Université Paris-Saclay (France) Maximilian University of Munich (Germany) Lund University (Sweden) University of Porto (Portugal).
We also participate in the ERASMUS+ program. Our partner Universities are: • Ludwigshafen University of Applied Sciences (Ludwigshafen am Rhein, Germany) • Ahi Evran University Kirsehir, Turkey • Mikkeli University of Applied Sciences (Mikkeli, Savonlinna, Finland) • Universitatea din Oradea, Romania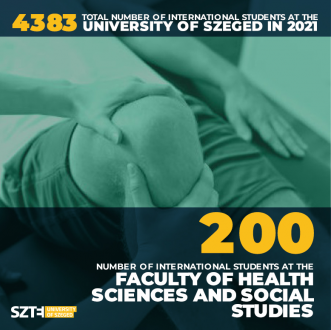 Student Services of the Faculty
Our Faculty has two buildings in a quiet suburb area, close to the Liget park, the Sports Hall and the Napfényfürdő Aquapolis Szeged.The Library of the Faculty supports both students and staff in the field of scientific information. Student registration, study management and coordination is supported by the Secretariat of International Programs. One of the main goals of the Faculty is to support the students in all areas of their lives. We operate student services. For example, the Student Information and Consulting Office (HAITI). It provides significant assistance in supporting students in study or private crisis situations. Four colleagues provide life guidance counselling.
See the Student Services of the University of Szeged here.
Faculty of Health Sciences and Social Studies UNIVERSITY OF SZEGED 2022-2023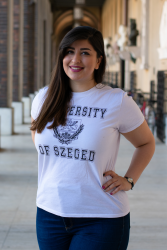 Meet Nikki from the Faculty of Health Sciences and Social Studies
"My name is Nikki and I am from Iran. Currently I am a second year student studying Physiotherapy at the University of Szeged. I really like the Environment of Szeged as it is a true University City where you can meet people from around the world. I consider Szeged as my second home since I have established my own path here and I have a lot of friends who make me feel home. The reason why I came to Szeged is because I was informed by one of my friends about the fact that the University degrees are EU accredited and will help me to reach my goals and open doors for future job opportunities. Once I have obtained my degree, I would like to stay in Hungary and pursue a post graduate program. Later on I will seize the opportunity to gain some job experience in my field here in Hungary before I hold my ground in Europe."