Welcome to our Online Open Day!
What makes a successful pharmacist?
How is biotechnology used in the pharmaceutical industry?
Medicinal plants and phytopharmaca play an important role in modern pharmacotherapy?
The Faculty of Pharmacy and its international programmes have the answers!

The Faculty of Pharmacy at the University of Szeged is the second oldest pharmacy faculty in Hungary. With more than 100 years of experience in education and research, our practice-centered approach and friendly environment guarantee a solid basis for a high degree of professionalism. The pharmacists who graduate in Szeged are much sought-after by pharmacies, pharmaceutical companies, and the research and regulatory fields. Our students acquire an excellent routine and confidence in dispensing prescription medications, and in giving advice not only on how to use drug preparations and medicinal plants, but on lifestyle changes as well that can complement pharmacotherapy.

Due to the shortage of pharmacists throughout Europe, unemployment among our graduated students is virtually unknown. This means that the majority of our students can find a position in their field of studies within 3 months after graduation. Salaries are also attractive: pharmacists are ranked among the highest-paid professionals in Europe and overseas. A diploma (Doctor of Pharmacy) acquired in Szeged is accepted in the countries of the European Union (EU) and provide an easy route for the legalization process outside the EU. Read more on the Faculty's website.

Click on the photo for more pictures about the Faculty.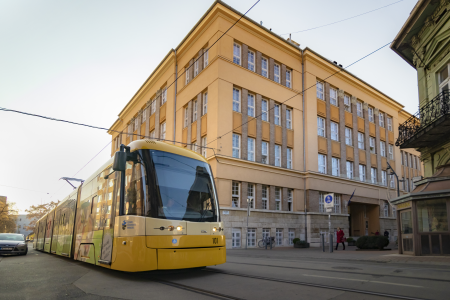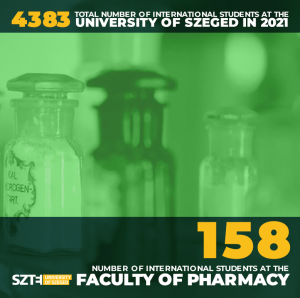 Programmes Available for International Students
Doctor of Pharmacy, 5 years, (PharmD., Undivided)
Upon successful completion of this programme the title Doctor Pharmaciae (pharmacist, PharmD.) is awarded to our students. The programme extends over a period of five years (10 semesters). It begins with an introduction to the basic sciences. In the second part of the program students participate in general and specialized pharmaceutical education at the university's different departments and institutes, laboratories, hospital- and clinical pharmacies. The faculty seeks to educate its undergraduates by promoting their intellectual development and the progressive accumulation of their knowledge and skills in all fields of modern pharmacy. The Faculty is part of several international research collaborations, and our course material is continuously updated in order to reflect the latest scientific results. Our lecturers are not only internationally respected professionals but also active researchers themselves.
There are diverse possibilities for advanced pharmaceutical research at the Faculty of Pharmacy, since its different institutes represent the whole spectrum of pharmaceutical research, from the synthesis or isolation of biologically active compounds and their pharmacological or biopharmaceutical investigation, to their formulation. Students can explore different fields of pharmaceutical research according to their interests and gain extensive knowledge of other fields as well thanks to the large variety of available courses. The scientific content of each programme is introduced separately, although they represent a single unit. Programmes of the Doctoral School: Pharmacognosy; Pharmaceutical Analysis; Pharmacology, Biopharmacy, and Clinical Pharmacy; Pharmaceutical Chemistry and Pharmaceutical Research; Pharmaceutical Technology.
Career opportunities
A pharmaceutical career is a diverse profession, with numerous opportunities for patient care, scientific research, and innovation. Pharmacists may work in many different settings, developing new medicines, supplying medicines, providing advice about medicines, and offering health services. Further work settings include universities, regulation, government organizations, research, publishing and the pharmaceutical industry.
Student Services of the Faculty
The University will assist freshmen free of charge in finding accommodation and signing an agreement with the landlords. This service is provided between July and September prior to the start of the academic year.
A general health insurance valid for Hungary is included in your tuition fee.
Medical care is provided by the University doctors on campus.
See the Student Services of the University of Szeged here.
Faculty of Pharmacy UNIVERSITY OF SZEGED 2022-2023

Application Requirements in General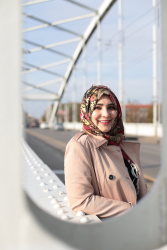 Meet Mahwash from the Faculty of Pharmacy
"I am Mahwash from Pakistan, a Stipendium Hungaricum scholarship holder. I am enrolled in PhD Pharmaceutical Technology, currently in the second year. There were two main reasons that influenced me to choose University of Szeged; international community and research facilities. There is no power greater than community to help you achieve your goals. Therefore, Szeged was the perfect choice for me. The research ambiance is so well oriented that together with the efforts of my supervisor and colleagues, I can achieve my scientific aim. My University and lab fellows have always made me feel comfortable. So now I have a home away from home.
The Faculty of Pharmacy of University of Szeged is top ranked and many research groups are being supervised by members of the Hungarian Academy of Sciences. So it is an honor to pursue my degree among celebrated scientists!
Unfortunately every beautiful thing has to come to an end. I want to inspire young researchers back at home after the completion of my program. I will take back with me the experience of a beautiful culture and share it with my community. In the future I would like to explore new horizons of the Nanotechnology."