Welcome to our Online Open Day!
ARE YOU LOOKING for programmes in HUMANITIES?

We promote open-mindedness, critical thinking, creativity and provide our students with an excellent, marketable degree. In a 2017 ranking based on professor excellence, our Faculty was named the best in Hungary. It holds eminent positions on international lists as well. The high-quality education at our university is supported by its library – located right next to our Faculty – which contains two million documents.
You can also relax after studying: there is a plethora of cafés and pubs on our minicampus in the city centre. This beautiful city, also called the Sun City, is home to our Faculty. Apart from academic life, you can enjoy the vivid cultural life and the sports facilities offered by the city. You will never get bored and you will find many friends. The Faculty of Humanities and Social Sciences at the University of Szeged is the best choice for you!
For more information please visit the website of the Faculty.

Programmes Available for International Students

• English and American Studies (in English)

• Italian Studies (in Italian)

• Spanish Studies (in Spanish)

• German Studies (in German)

• French Studies (in French)

• English Studies (in English)

• American Studies (in English)

• French Studies (in French)

• Educational Sciences (in English)

• German Studies (in German)

• Italian Studies (in Italian)

• Spanish Studies (in Spanish)

• Study of Religions (in English)

• Philosophy (in English)

• Russian Studies (in Russian)

• Choreomundus (International master in Dance)




• Doctoral School of Educational Sciences

• Doctoral School of History

• Doctoral School of Linguistics

• Doctoral School of Literary Studies

• Doctoral School of Philosophy




• Hungarian Language and Culture

• Intensive Hungarian

• French MA Preparatory Programme

The Hungarian Language and Culture intensive summer programme includes language learning on various levels, cultural exposure in combination with academic classes and leisure activities as well.




Click on the photo for more pictures about the Faculty.

Career opportunities
Graduates of the Faculty usually choose their careers in cultural and public administration, education, tourism, international business, teaching, translation, journalism, academia, editing, diplomacy, international relations, media, project management or local government.
International Relations
Our Faculty has numerous exchange programmes for both students and staff with universities all over the world.
Do ask for possibilities!
Student Services of the Faculty
Our international students commence the academic year by attending the orientation week organized by the faculty to welcome them. During this week students participate in an intercultural training that prepares them for working with Hungarian and other foreign cultures. They can apply these skills at student dormitories where they might stay as well. Since these only have a limited number of places available, the international staff and their mentors help the students find a flat that they can share with other students, if needed. Besides their coordinators, students can count on their mentor as well, a Hungarian student that helps them with daily affairs and informs them about the numerous activities that our Faculty and city offer. Regardless of the programme they are in, our students may deepen their knowledge of Hungary by attending Hungarian language and culture classes. Our students can also explore the cultural and sports facilities, and they can enjoy the different festivals and concerts in the city.
See the Student Services of the University of Szeged
here
.
Faculty of Humanities and Social Sciences UNIVERSITY OF SZEGED 2022-2023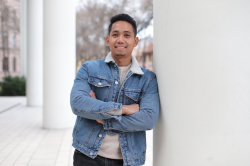 Meet Ahmad from the Faculty of Humanities and Scoial Sciences

"I am Ahmad Adha from Indonesia and currently a 3rd year student in Theoretical Linguistics PhD program. I chose the University of Szeged (SZTE) as my study destination because it is located in the center of the town and it is also the highest ranked university in Hungary. The university staff and the professors were very accommodating and understanding when I decided to change the program that suits my research topic. I am so glad that I can be a part of my current department, and of course SZTE, since it is also the Center of Pragmatic Research which aims to promote advanced linguistic pragmatic research with international collaborations. After graduating, I wish to continue to work in my academic field as a professor and a researcher. My advice for prospective SZTE students is to choose a university with a good academic reputation that fits their passion."