About the University
Pictures, videos and facts about the University of Szeged

Prestigious Universtiy

The University of Szeged traces its origins back to the 16th century, and it is one of Hungary's most prestigious and competitive universities, regularly listed as one of the best national institutions by the QS World University Rankings. Our educational and research activities related to natural sciences also have an excellent global reputation, and the university is regularly ranked among the top 500 institutions for physical and life sciences by the QS University Subject Rankings.
Health and Life Sciences have a long-standing tradition at the University of Szeged with Albert Szent-Györgyi, winner of Nobel Prize 1937 and Katalin Karikó, winner of Breakthrouh Prize of 2021 - just to mention two of our most prominent scientists.
Offering International Educational Programmes

Szeged offers bachelor's, master's, and doctoral degrees at 12 different faculties, covering a wide range of studies including health sciences, social sciences, business & economics, agriculture, engineering, natural sciences, and IT.

Besides the degree programmes preparatory and other short-term programmes are available for international students. See the list of available programmes here.

Student Life

We have a great student-teacher ratio: there are around 12 students for every staff member, which makes for a great learning environment and lots of one-to-one contact with your professors. We have 4,800 international students from about 120 countries, making up 20 percent of the student body. The University offers a large variety of cultural and sports events throughout the year, including the International Cultural Evening (ICE), where one can admire the diversity of languages, traditional costumes, colours and tastes. SZIN (Youth Days of Szeged) is a four-day music festival held on the Tisza river bank every August, with a strong lineup including many international mainstream artists. For the image video about our international student life click here.

Szeged the City of Sunshine

Szeged is a wonderful and very liveable city with beautiful buildings and stunning natural surroundings that make it a pleasant place to stay. The vibrant intellectual environment makes this town a great place to learn, explore and live. The University is a city within the city: with its 22,000 students and 2500 academic personnel it is a important and integral part of Szeged. See the video about the latest SZTE orientation welcoming international students.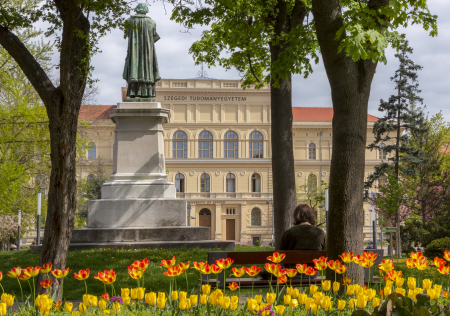 Click on the picture for more photos