The new Chinese director of the Confucius Institute of the University of Szeged, appointed in February, who arrived in Szeged from Shanghai, is already working in Hungary. We asked Wang Rui, who already has a membership card to the library, about the goals of her two-year assignment.
Wang Rui was born in North China, moved to Shanghai in 2002, where she teaches in English
at Shanghai International Studies University (SISU). Her research area is English literature, and she wrote her doctoral dissertation on the Book of Margery Kempe, widely considered the first autobiography in English. She was appointed to lead the Confucius Institute of SZTE for 2 years.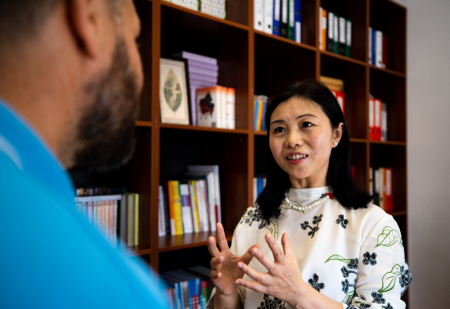 - How did you get in touch with the University of Szeged, Hungary?
- SISU has been in a close partnership with the University of Szeged in the development of the Confucius Institute. So I kept hearing about the Institute's efforts to promote linguistic education and cultural communications, from colleagues, websites, social media, and some of my students who major in Teaching Chinese as a Foreign Language. I've also long admired the academic excellence of the University of Szeged. So when SISU looked for a new Chinese director, I thought I might rise up to the challenge, to share my delight in the beauty of linguistic and cultural diversity, and be part of a dedicated team. I'm happy the University of Szeged liked SISU's personnel choice!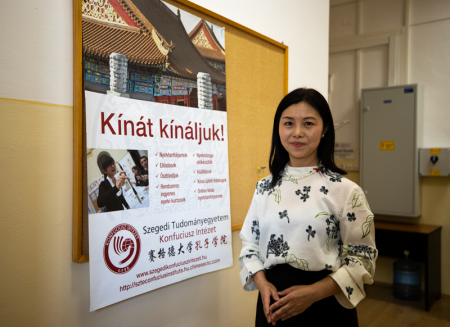 - What are your experiences of Hungary and Szeged, and the University of Szeged so far?
- This is my first visit to Hungary. I haven't explored Hungary yet, but Szeged offered what I expected, and more—the sunshine, the big big windows, the beautiful balance of solemnity and festivity. I've developed a particular interest in all the big gates for residential blocks here. They come in such variety and stand like silent storytellers.
I'm in the last phase of my orientation in Szeged. The next major project on my list is to deeply understand the University of Szeged, its programs, events, professors, values, long-term objectives. And I certainly look forward to re-discovering my beloved SISU in this light. This way, Ms Alexandra Zoltai, our Hungarian director, and I hope to find more collaboration opportunities for the two universities, and cities and regions. I'm also eager to get a feel of the University's famous academic vigor – that's why I got my library card first thing!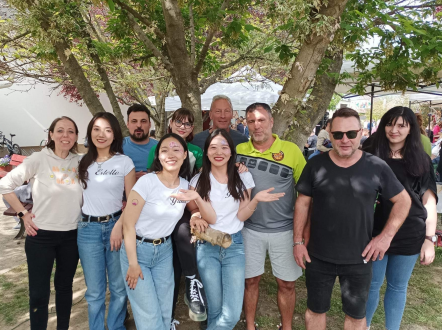 CI Chinese volunteers at the Deszk Family Day with local teachers
- What do you consider most important in your work as the director of the SZTE Confucius Institute?
To connect. Discovering, building and maintaining connections is what I consider the most important in my work as the director. Thanks to eleven years of joint efforts by the two universities, former directors, staff, Chinese and local teachers, Confucius Institute at the University of Szeged has developed an amazing selection of language and cultural programs. When I browsed the many labelled office cabinets, and saw all the teaching tools and equipment, cultural event materials, souvenirs from visiting officials and groups, photos, records and documents, it felt like standing in the torrents of time—so many people have worked for so long in their shared belief in communication, and so many communications have been achieved via this language and cultural bridge.
I hope with Ms Zoltai's expertise in China studies and my expertise in language and literature instructions we can carry on our predecessors' spirit and vision. We'll continue to cherish the connections we have, and provide quality (and fun) Chinese language education, organize HSK and other language proficiency tests, help students and teachers to get scholarship opportunities and excel in competitions, offer cultural experiences for the local community, and learn Hungarian culture from our life and work here. If young people from both countries, for example, are having one more career option because of their increased understanding of each other's language and culture, we are more than happy to have contributed our bit.
At the same time, we want to revive and initiate more people and academic exchange projects. For example, traditionally we had students learning Hungarian at SISU visit Szeged once in four years. Now we look to expand this program, hoping to invite more Hungarian students and professors to SISU.
It's exciting to see what new opportunities might open up once we decide to reach out for each other. Among the projects we're working on, I'm happy to report that starting June 24th, till the end of Year 2023, there will be an extensive exhibition of Chinese historical artifacts at the Mora Ferenc Museum in collaboration with several Chinese museums. Confucius Institute as partner in this project will offer a series of guest lectures, shows and other programs at the museum. See you there.
- What can we know about your hobbies, how do you spend your free time?
-In my free time, I love reading, music, family chats, catching up with student friends, hiking, and housekeeping.
- Is there anything that you consider important in relation to your work as a director?
- Among my top priorities are team-building and localizing.
First, we have a wonderful Chinese teaching team composed of certified teachers and experienced volunteers. The team is passionate about sharing Chinese culture and discovering Hungarian culture. They have also developed a strong bonding with the students. I often hear them talk affectionately about their students' achievements. Many of the teachers have taught in other countries so they're bringing along not just their expertise in teaching but also their personal growth and cultural experiences. I'm hoping to quickly understand everyone's strengths so that we can work together to further improve our classroom pedagogy and project design.

See Galery by clicking on the photo
Another priority is to deepen my understanding of local education system, policies, and practices. Basing on that, I'm hoping to explore the possibility of more technology enhanced learning in our Chinese language education. Back in Shanghai my colleagues and I have researched and practiced blending teaching for years, and experimented with the idea of "virtual teaching community" through the use of MOOC and other online resources. I hope I can lead the Chinese teaching team to explore the potential of technology enhanced instruction as part of our consistent efforts to improve teaching outcome.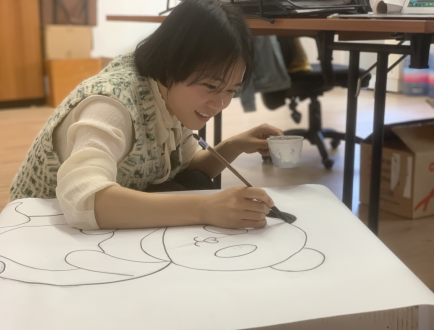 Nora Liu, CI Chinese teacher, painting a panda for the upcoming Children's Day celebration
I'm also learning to read in Hungarian-I think it's important to at least read people's names right. The latest addition to my limited vocabulary is how to say Panda in Hungarian as we're celebrating the Hungarian Children's Day with CI's signature Panda Day games in the Szeged Zoo this May 28th, Sunday. Join us to know more about this monochrome furry beauty and colorful Chinese culture.
Ferenc Lévai
Photo: Ádám Kovács-Jerney,