The great numbers of students who earn their degrees here each year all confirm that the University of Szeged is a modern, integrated institution, where talent management is important, where we care for students and where there is a well-constructed, well-functioning method of mentoring. We raise researchers.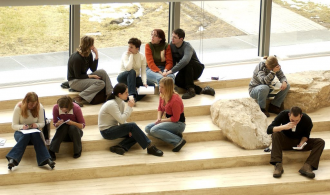 We grant degrees to students who we hope will become the best in their profession.
Talent management is regarded as extremely important. We are very proud of the Foundation for the Future of Biomedical Sciences in Szeged, with the help of which talented university and high school students have the opportunity to meet international academics, including numerous Nobel Laureates who visit our university.
The Talent Centre, operating at the University since 2010, seeks out and supports talented university students and coordinates talent management programmes. In this field we cooperate with a number of foundations: the Pro Talentis Universitatis Foundation, for instance, searches for and supervises students with outstanding abilities. The development of both personal and professional competence is considered important by the Foundation; furthermore, it helps towards the achievement of new, internationally significant scientific results and promotes the recognition of researchers' results at home.
We pride ourselves on having alumni who cherish their Alma Mater and believe in supporting talent and learning. Since the establishment of the József Sófi Foundation for Talents in Szeged in 2001, the University has granted scholarships worth more than 10 million HUF to students with outstanding scientific and academic achievements. The Sófi Foundation, operating as part of the Talent Centre, also assists graduates in their future careers.
The Faculty of Humanities and Social Sciences, the Faculty of Economics and the Faculty of Law and Political Sciences are equally supportive of their outstanding students with their scholarship programmes of the faculty, as are the number of partner companies of our University that acknowledge the academic achievements, diligence and abilities of talented Hungarian and foreign students with their financial support.
For more scholarship opportunities, please see the relevant pages of our website.