The University of Szeged has been ranked the best Hungarian university in this year's Quacquarelli Symonds (QS) University world ranking. The result acknowledges the university's outstanding national and international educational programmes, its research activity and artistic performance. The institution managed to maintain its 551st-560th position among a significantly higher number of nominees.
The University of Szeged has maintained its prestigious 551-560th position in the British Quacquarelli Symonds' (QS) University World Ranking for 2023. This year there was a significantly higher number of nominees evaluated by the organization, the world's leading provider of higher education rankings. QS has consistently been ranking the University of Szeged as the best Hungarian higher education institution for more than a decade.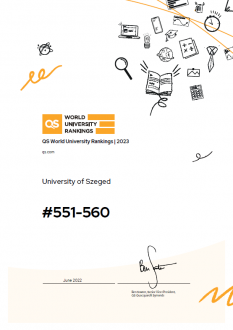 Compared to last year there were 800 additional universities evaluated (2,462 altogether), out of which 124 made it to the final list which now features 1422 institutions. The number of Hungarian institutions included in the ranking has also increased from nine to eleven.
The entry requirements for the global ranking are: teaching activity at multiple levels of education, diversity of disciplines, internationally visible publication activity. Institutions are assessed across six categories (or indicators) to effectively capture university performance – including academic and employer reputation, faculty/student ratio and research citations.
The University of Szeged has successfully kept pace with the dynamic development of the international field and is ranked alongside institutions such as Masaryk University in the Czech Republic, the University of Eastern Finland and the University of Cairo in Egypt. On top of the list is the Massachusetts Institute of Technology (MIT) in the US, followed by Cambridge, Stanford, Oxford and Harvard.
The full list is available here: QS WUR 2022/2023
SZTEinfo