2022. March 21.
She is involved in research simulating Mars colonization, has tested fighter pilots, speaks 5 languages, and is studying astrophysics alongside health sciences. The sixth-year medical student at the University of Szeged wants to work in aviation- and space medicine, has recently applied to NASA and SpaceX as an intern, and will spend the next month in Los Angeles as a surgical intern thanks to a scholarship.
What will astronauts eat on Mars missions? Dóra Babócs, a sixth-year medical student at the University of Szeged knows the answer, as she is taking part in a volunteer research project simulating Mars missions in the desert - among other things.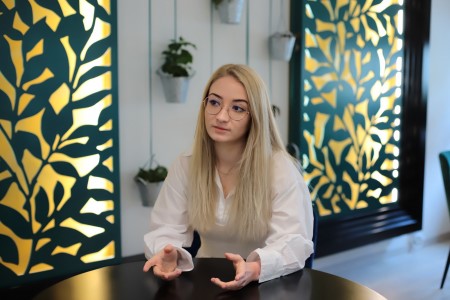 Since childhood, she has been fascinated by astronomy and space science. She finished secondary school at the Eötvös József High School in Szeged, and then passed her A-levels in chemistry and biology. "I want to be a useful member of society and create something valuable", said Dóra Babócs, who will be the first medical doctor in her family. She believes that the secret to success is to love what you do, because there is no stronger motivation to achieve your goals. Hers is to become an aviation and space medicine physician, and a surgeon.
She wrote her thesis at the Department of Aviation and Space Medicine at the Szent-Györgyi Albert Medical School of the University of Szeged, where she was mentored by General Dr. habil Andor Grósz and was able to participate in research at the department. She is collecting background material and translating it from English to Hungarian for the purpose of a Hungarian-language textbook on aviation- and space medicine. The book is planned to be published in the near future and her ideas have been used during edition. She has been involved in hypobaric chamber measurements, i.e. she has been studying aircrew and naval crew personnel. Among other things, she tested fighter pilots alongside her mentors.
"I also applied for the Hungarian astronaut program, called HUNOR. I wanted to be the first Hungarian female astronaut, but unfortunately, participation requires a university degree, which I won't have by the summer", said the SZTE student, who won't give up and will try again later. She has other plans: she recently applied for internships at NASA and SpaceX.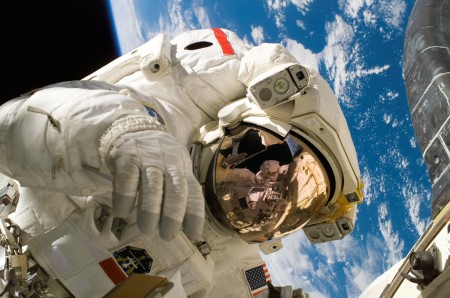 "In my third year, I was top of my class in both semesters, with the best grades. It was then that I caught the attention of Prof. Dr. László Rovó, Rector of the University of Szeged, who has been supporting my academic progress ever since. Rector Rovó and General Grósz wrote my recommendation letters", said Dóra Babócs, who chose surgery as her specialty because NASA research shows that more than half of every 100 emergencies on Earth and in Space may require surgical intervention. It's an advantage to have several specializations, so I would like to specialize in surgery, and more specifically robotic surgery", said Dóra Babócs, who is also a student of The Open University in England, where she is studying astrophysics in the institution's astronomy and planetary sciences programme, so that she knows not "only" about the human body, but also about the environment surrounding it in space.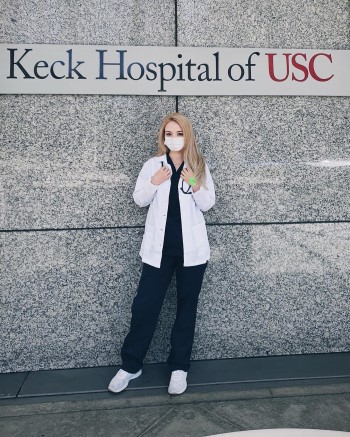 The student from the University of Szeged is continuing her experience in the United States. She will spend the next month in Los Angeles, doing a surgical internship at the USC Keck School of Medicine.
Hobbies: bodybuilding and language learning
Dóra Babócs passed her intermediate English exam before high school, at the age of 14, and her advanced English exam during her university years. She self-learned from films and textbooks. She practices the language every day with her Japanese university friends - she speaks at an intermediate level. In September 2019, she started Chinese at the Confucius Institute of SZTE, and by December she had passed the basic test with a result of 99%. Thanks to a scholarship, she attended the Shanghai Summer School, which was held online due to the Covid-19 epidemic. She speaks Mandarin at an intermediate level and started Korean because of a friend. Besides learning languages, her other hobby is bodybuilding. At the beginning of her university years, she participated in several bodybuilding competitions – and she always ended up amongst the best three. She is currently not competing but trains 4 times a week.
From TDK to the ER
She is also involved with so-called Scientific Students' Associations ("TDK" in Hungarian, which stands for 'Tudományos Diákkör'). "TDK projects offer me many opportunities to get involved in research and I have found excellent mentors like Dr. Attila Paszt and Dr. József Furák, to whom I owe a lot. I have been working with them for more than 3 years. I participate as second and first assistant in surgeries under their supervision. Dr. Paszt has also arranged a surgical study trip to Japan for me, which unfortunately has not taken place so far due to the Covid-19 epidemic, but I am looking forward to travel there to study robotic surgery in the summer for a month", said Dóra Babós, who worked as a TDK student at the Department of Physiology, the Internal Medicine Clinic and Cardiology Centre No. II and the Internal Medicine Clinic No. I of the University of Szeged, where she also participated in patient care. He volunteered at the ER and at the Institute of Surgical Research where she gave practical training to Hungarian and foreign medical students. Among other things, he taught suturing, knotting and the use of surgical instruments to undergraduates.
Direction: Space!
Hungary plans to send an astronaut into space in the mid-2020s. The country's space strategy has been developed and is being implemented with the help of experts, as Minister of Foreign Affairs and Trade Péter Szijjártó said at the European Space Agency (ESA) Space19+ Ministerial Council in Seville: "Space will be one of the most important industries of the future. For Hungary, this is the latest development- and breakthrough opportunity, with a focus on training and sending a second Hungarian astronaut to the International Space Station (ISS), which we see as realistically feasible by 2024 in cooperation with the Russian Roscosmos."
SZTEinfo - Anna Bobkó
Photos by Anna Bobkó
English Translation: Rita Csúri-Magosi