2021. September 22.
The whole world had the opportunity to watch the live award ceremony of the prestigious medical award, the Albany Award, on September 22, 2021. Albany Medical University honoured Katalin Karikó, Drew Weissman and Barney S. Graham together for their results that led to an effective vaccine against the Covid-19 pandemic with America's second highest value prize in Medicine, the Albany Prize.
After Szeged, Budapest and Bern, Albany a city located near New York, is the fourth city where Katalin Karikó has personally received an award. Senior Vice President at BioNTech, Adjunct Professor of Neurosurgery at the Perelman School of Medicine, University of Pennsylvania, former doctoral student and student at SZTE, and her two partner researchers, won the Albany Medical Centre Prize.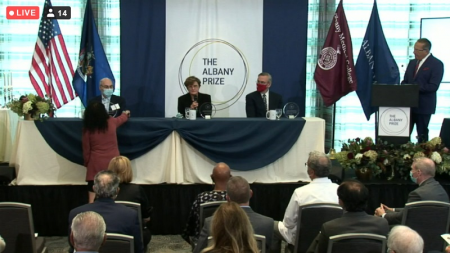 The decision was announced by "Albany Med" on 26th of August, 2021; the ceremony was held on the 22nd of September, 2021 at 16:00 CET.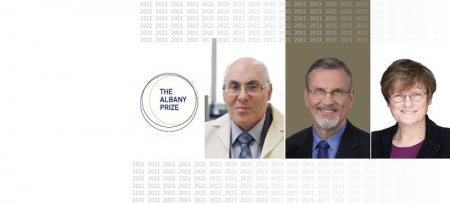 Awardees of the the Albany Prize, America's Most Distinguished Prize in Medicine are Katalin Karikó, Ph.D., Barney S. Graham, M.D., Ph.D., Deputy Director, Vaccine Research Center, and Chief, Viral Pathogenesis Laboratory at the National Institute of Allergy and Infectious Diseases, National Institutes of Health and Drew Weissman, M.D., Ph.D., the Roberts Family Professor of Vaccine Research, the Perelman School of Medicine, the University of Pennsylvania.
A short biography of the Albany Prize winners was presented at the ceremony that was broadcasted live by the organisers.
"Collectively, the Albany Prize awardees have made significant contributions to science as researchers, mentors and educators over decades." - Emphasized Dr. Vincent P. Verdile, dean of Albany Medical College and chair of the Albany Award's national selection committee, in welcoming the three honourees. He also highlighted that their work, scientific expertise and dedication have been instrumental in accelerating the development of two mRNA Covid-19 vaccines. Their dedication and commitment exemplifies the legacy of the Albany Medical Centre's "Albany Prize", which awards scientists whose work has demonstrated significant contributions to the well-being of humanity and the advancement of medicine.
SZTEinfo – Ilona Újszászi
Photos by: AMC