Prof. Dr. Lajos Kemény
Vice-Rector for Science, Research Development and Innovation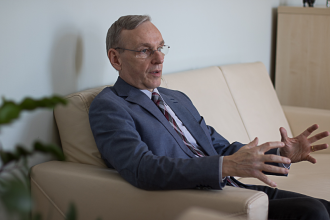 "It is the ELI-ALPS (Attosecond Light Pulse Source) research institute and the surrounding Science Park that make Szeged even more visible on the international map. The summer courses on laser applications in the medical and physiological fields offered by the SZTE from 2014 on, as well as the international conferences and workshops organized by its various institutions also promote the ELI-ALPS, which offers ultrashort pulsating laser radiation.

The last one of these was a practice-oriented course held at the Department of Dermatology and Allergology at the SZTE, which attracted researchers from Canada through Switzerland to Italy. Researchers come to Szeged from all over the world through the wide network of relations of the laser physicists and colleagues working in the fields of material and medical sciences and their border areas.

Molecular medicine has been put on the map of Europe, as the headquarters of the Hungarian Centre of Excellence for Molecular Medicine (HCEMM) is in Szeged. This opens up new possibilities for researchers specializing primarily in medical science, biology and pharmaceutics to form new research teams, and we hope that we can also tempt researchers working abroad to return to Hungary.
There is intense international competition in science and the SZTE is taking part in this competition. The SZTE is one of the universities whose researchers were able to win scholarships and grants provided by the European Research Council or the Momentum Program of the Hungarian Academy of Sciences. The New National Excellence Program motivates those who are planning to return home from academic institutions abroad. With this support, cutting-edge research can be carried out in several subjects at the SZTE, which further enhances its reputation. We would greatly appreciate it, if at least one new research team could form in all disciplines with international leadership.

All basic research has the potential for innovation. To invent, to apply something new − this is exploratory research, the first step of innovation. The main aim for researchers doing basic research is to publish, while they consider whether their findings include an element that can be used commercially, whether it is worth moving towards obtaining a patent or know-how. The SZTE helps its researchers in patenting: we are proud of a patent application filed in international cooperation."
Prof. Dr. Katalin Nagy
Vice-Rector for International Affairs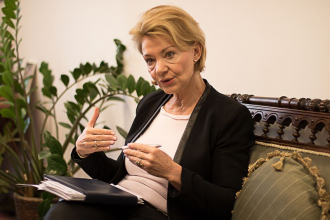 "In order to crease the international visibility of the University of Szeged, we invited the ambassadors of the countries participating in different scholarship programs to our university with an aim to develop cooperative relationships in the fields of education and scientific research. As President of the Committee on International Affairs of the Hungarian Rectors' Conference I can also reveal that there is such a wide range of educational and research work done at the University of Szeged that it aroused special interest of the foreign delegations. On these occasions a number of written agreements were reached in the field of medicine and natural sciences, and from agriculture and music to humanities. These events were completed by the Ambassadors' lectures, so both students and trainers from the University of Szeged received first-hand information about a particular country.

The increasing number of foreign students contributes to the study and socialization of Hungarian students in a multicultural community, as it enables them to practice foreign languages as well as to learn about the culture of other countries. It includes some outstanding events like the opening of the American Corner in Szeged and the organization of the traditional International Cultural Evening (ICE) for international students studying in Szeged, which was attended by the ambassadors of several countries.

Not only as a Vice-Rector, but also as the President of the Hungarian Dental Association I promote the internationalization of the university: I always propagate the University of Szeged at foreign conferences."
Prof. Dr. Krisztina Karsai
Vice-Rector for Education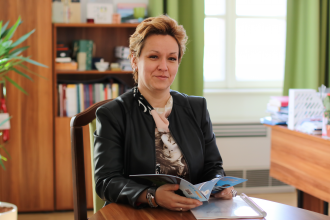 "The student population of the University of Szeged shows high diversity, however, in legal and professional respects all students are equal, and therefore they are provided the same level of education and student services. In terms of internationalisation, one of our key priorities is increasing the choice of our foreign language study programmes. Four years ago we offered only a few of these programmes but by now all of our doctoral schools along with 32 other foreign language programmes are accredited. Currently, we offer complete study programmes in English, French and German and certain semesters in language training programmes are also available in the given language. Accordingly, the translation of the official documents necessary for students' lives, e.g. the Academic and Examination Regulations and the Student Hostels Regulations are also being translated. Aiming at more effective administration, we have organized language training courses both for the administrative staff and, where needed, also for lecturers. Classes with mixed nationality students require new didactic skills thus developing teachers' competences is also necessary.

An important goal of the university is to join one of the international MOOC service platforms. We are prepared to launch online courses both in Hungarian and English, which will make us possible to appear on the international market. Distance learning courses, the early form of online courses, have been going on at the Department of Economics with success for many years. This programme will probably been launched in foreign languages in the future. The number of Hungarian distance learning programmes could also be increased. For example, there seems to be a great potential in informatics, certain engineering and tertiary vocational training.

Student services, cultural and sports facilities are all available in foreign languages at the University. One of the most important of these is the English language mental health counselling provided by the Student Counselling Centre, which, among other things, helps students with learning difficulties. Hungarian or other languages can be learnt as well, thanks to the Foreign Language Centre. Talent management, scholarships and internal professional competitions are designed so that Hungarian students as well as foreign ones have the chance to apply and win support. The national higher education scholarships, the New National Excellence Program, the Talent Scholarships, presentation competitions and other initiatives supporting outstanding individuals are also available for students studying in a language other than Hungarian.

In case of launching new training programmes, it is compulsory to set a so-called mobility window. This means that a semester has to be included in the curriculum in which a lower number of credit points and classes allows students to travel abroad through Erasmus+ or some other mobility program and to use the credit points acquired there the same way as if they were acquired at home. So Hungarian students can also enjoy the results of our efforts in internationalization."
Prof. Dr. Tamás Martinek

Vice-Rector for Public Relations
"The professional aspects of education and research can sometimes be meaningful on a national scale, but the performance and excellence of the SZTE are primarily measured globally. So our image inevitably develops in an international space where a few thousand universities struggle for visibility and recognition. Orientation is supported by university rankings, which take several parameters on performance and quality into consideration, but out of these, scientific performance and innovation are the most crucial. Our goal was to understand how rankings are compiled in order to map the weaknesses and potential strengths of the SZTE.

I consider it an achievement that we have been able to measure the state of scientific accomplishment and excellence of the SZTE compared with our competitors. Based on this, among other things, a clear strategy has been established, focusing on improving the quality and quantity of our scientific capacity consciously, in a research team-centred approach.

During the previous rector's administration I participated in the management of several programs that tried hard to achieve these goals: the foundation and launch of Centres for Molecular Medicine Excellence and Interdisciplinary Excellence. Both projects are working on integrating Szeged into international research, attracting successful foreign research teams, talented researchers, and thus, improving excellence."