2018. February 14.
A single week does not pass without hosting foreign delegations at the University of Szeged. Ambassadors, consuls and attachés are arriving at the invitation of Vice Rector Prof. Dr. Katalin Nagy – promoting SZTE in their home countries after their visit. Among others, these events also contribute to the growing number of foreign students studying at the University of Szeged.
'The greeting of a foreign delegation is the first step ahead in a bilateral process; these visitations outline a significant and long-term impact on our University' says Prof. Dr. Katalin Nagy. The Vice Rector for International Affairs emphasized that the key aim is to establish a cooperation relationship regarding education and research that is manifested in an agreement to be signed between SZTE and another higher educational institution enacting teacher and student exchange. Just to mention the ambassadors, the Algerian, American, Angolan, Azerbaijani, English, Chilean, Chinese, Cuban, Cyprian, Czech, Dutch, Ecuadorian, French, Indian, Iranian, Israeli, Japanese, Korean, Lithuanian, Moroccan, Polish, Romanian, South-African, Senegalese, Serbian, Slovenian, Soudan, Swedish, Venezuelan diplomats visited the University of Szeged.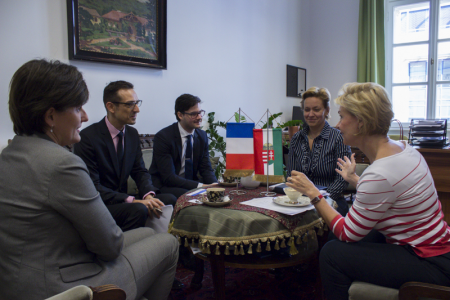 'In most cases, delegations are the only bridges between Hungary and a given country. Once the ambassador confirms that the education and research is of outstanding quality at the University of Szeged and that Szeged is liveable as a city, chances are that more and more foreign student will come and study at SZTE. Stipendium Hungaricum scholarship programme – established by the Hungarian government – shall serve as an evidence: the number of students participating in the programme tripled in the last few years.' Moreover, inviting these delegations to Szeged is also beneficial for faculties, since an individual cooperation can be up built.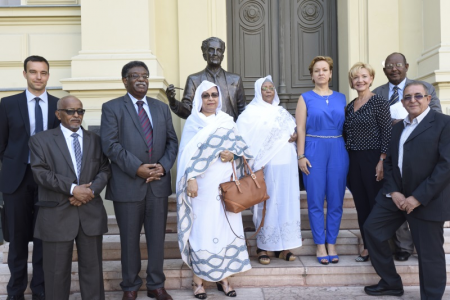 'We are striving to invite the ambassadors of distant countries; the visit of the Soudan ambassador is an extraordinary success as we had the honour to return his attendance in the African country. I deliver a lecture on the University of Szeged after which 6 local judges were sent to the Faculty of Law of SZTE to a postgraduate course. It is believed that this number might grow since the association recognizes the University of Szeged as its official centre of further training' says the Vice Rector of International Affairs.
'Visitations are usually accompanied by thought-provoking lectures: ambassadors introduce their own country and their views on current affairs. The Korean ambassador delivered a speech on the relationship between North and South Korea and we got to know the Indian culture as well. I would like to cordially invite you to attend the lecture of Kirsten Geelan, the Hungarian ambassador of the Kingdom of Denmark on the 7th of February. We are also awaiting the Moroccan ambassador to sign a Memorandum of Understanding with SZTE and we truly hope to welcome the Russian delegation in the near future' says Prof. Dr. Katalin Nagy.