2017. December 13.
Rector Prof. Gábor Szabó and Yin'e Zhou Vice Rector for Education agreed on the enlargement and carrying-on of the educational and research cooperation launched in 2012 between the University of Szeged and the Shangai University of Political Science and Law (SHUPL) in November.
The aformentioned cooperation constituted a ground for the establishment of Gateway programme, which is basically an exchange programme for students. 8 Chinese students started their studies at the Faculty of Law of SZTE within the framework of Gateway in the first fall semester of the initiative in 2012; students keep arriving from term to term and their number increased to 39 in the fall semester of 2017.
The programme is dynamically developing, the number of Chinese students in Szeged and of partner institutions cooperating with SZTE is continously rising. The delegation of SHUPL arrived to Szeged not only to have the present contract extended, but also to discuss the possibilities of the enlargement of the collaboration.
The growing number of Chinese students provided a reason to extend the cooperation with Chinese universities: scholars arriving from the Shanghai International Studies University, the Northwest University, the Northwest University of Political Science and Law and the Xi'an Polytechnic University had the chance to study the Hungarian and the European law system. According to the current planning, the East China University of Political Science and Law will also send foreign students to Szeged.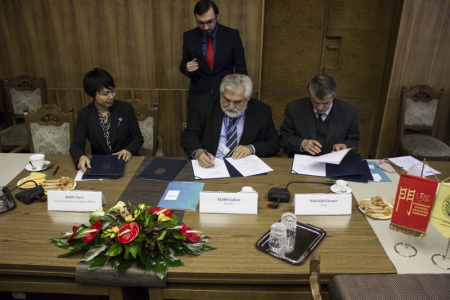 Students participating in the course of the Faculty of Law are studying legal English, European legislation and also attend classes about the Hungarian culture and language. Facultative subjects have a wide range: introduction to international law, intellectual property protection, criminal law, administration, economic relations within the European Union, human rights and the operation of international organizations can be studied.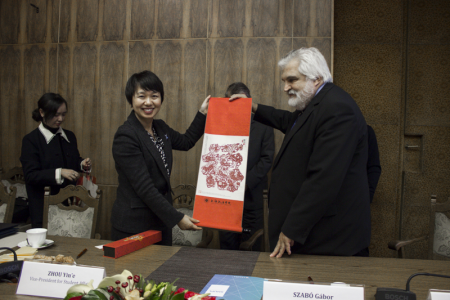 Gallery
The Faculty of Law of SZTE has the intention to establish an even wider cooperation between partner institutions and hopefully students from Szeged can also enter part-time courses in China.
SZTEInfo
Photo: Anna Bobkó