2016. October 14.
International students from all over the world has finally arrived safe and sound to 'beautiful city' of Szeged – and as an experience of a lifetime, though raising concerns and worries, turned out to be a magical part of students' lives.
It is not only a brand new environment where they need to fit in, but also a testing challenge of overcoming language barriers and even cultural differences. However, a handful of helpers showing their commitment to back up foreigners – such as the mentors of Erasmus Student Network, and the officers of Directorate of International Relations – has always been doing their best to make legal affairs, the enrolment process and everyday life even.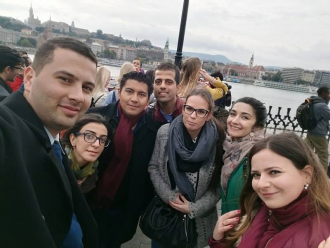 Joseph Kanyi Kihika from Kenya described the moment of arriving to Szeged as 'be one of the best moments of my life', and 'truly an experience I will cherish and old dear for days, months and years to come in my future academic field as a Biologist in the field of Life Sciences.' Although Joseph was afraid of not being able to fit in the society immediately, now he is cherished to be part of a prestigious university and the member of a gifted group of international students.
Lilian Anchola was dreaming of studying abroad – she has never imagined herself 'sitting face to face with distinguished people from all cultures, religions and all walks of life', and also 'never imagined 'having friends in such seemingly remote yet personally close place'. Today she begins to overcome all the obstacles, managed to learn the first words in Hungarian, made new friends from all walks of life, and her life 'started to become eaiser' – and now she is finally able to imagine.
Mustafa Wshyar, student of Literary Studies at the Doctoral Institute, felt like a 'new born baby' having arrived to Szeged – but after 'visiting the university, I was overwhelmed by the very beautiful architecture of the campus', also adding that 'people here are the most helpful and friendliest […] I have ever met after living abroad for a long time and traveling in many countries.'
PhD-student Nguyen Huy Cuong was fascinated by the faculty and the enthusiasm of the staff helping the international students, and also 'fell in love with the city of Szeged, and all the locals are very nice and willing to help'. In her opinion, the mixture of ancient and modern elements on architecture coupled with the hustle and bustle of the streets makes Szeged and SZTE definitely the best place to live and study.
It is such a pleasure and joy to belong somewhere, especially to a society where talented, open-minded and unique individuals gather together. The University of Szeged has proved to be one of the most welcoming places of the world, where high-standard education meets the privilege of living here.