2016. November 15.
In the course of the last year, the University of Szeged welcomed delegations from 20 countries. Ambassadors, heads of foreign universities and research centres came to visit the city and the university as well with great pleasure.
The University hosted ambassadors from all over the world: from the Middle East Azerbaijan, Tukey; form Africa Nigeria, Morocco, Algeria, Sudan; from Asia China, Japan; from Latin-America Cuba Ecuador; and from Europe: Belgium, France, Latvia, Denmark, Poland, Lithuania, Czech Republic, Slovenia and Bosnia-Hercegovina's representatives were called on to the University of Szeged.
With the initiative and the coordination of the vice-rector for international affairs prof. dr. Katalin Nagy it opened the possibility for the mentioned personages to collect information about SZTE at first hand. The foreign guests met not only the leaders of the university, but also their compatriots who study at the University of Szeged.
The rector of the university, Prof Dr. Gábor Szabó welcomed Slovenia's Hungarian Ambassador, Ksenija Skrilec on 17th of October, and Czech Rebublics Hungarian Ambassador, Juraj Chmiel on 12th of October. In the near past Azerbaijan's Hungarian Ambassador, Vilayat M. Guliyev, Turkey's Hungarian Aambassador, Sakir Faklili and Bosnia-Hercegovina's Hungarian Ambassador, Aleksandar Dragicevic also came to visit the University.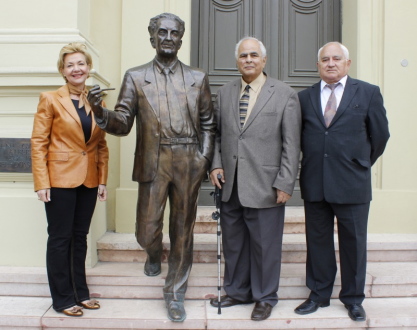 Diplomatic visits at the University of Szeged
Heads of foreign universities also has a keen interest in the higher education in Szeged. The institution has recently contracted cooperation agreements with the Egyptian Beni Fuef University, the Russian NOU VO, and the Taiwanese National Quemoy University. Beside the academic education, the foreign delegates were also interested in research works at Szeged. For example: the Saudi Arabian King Abdulaziz City for Science and Technology Research Center's delegation came to Szeged in favour of mutual projects' firmament with the University of Szeged and the Biology Research Centre of Szeged.
The numbers of foreign students increase in the University, which trend is also supported by foreign guests' visits. While last year 300 students participated in the Stipendium Hungaricum scholarship programme, this year this number is duplicated: 780 young people choose the University of Szeged as their first choice in application. In addition on September 2016 more than 230 international students from 19 countries, 89 cities, and 108 universities started their studies in the frames of one of the Erasmus+ mobility programmes.