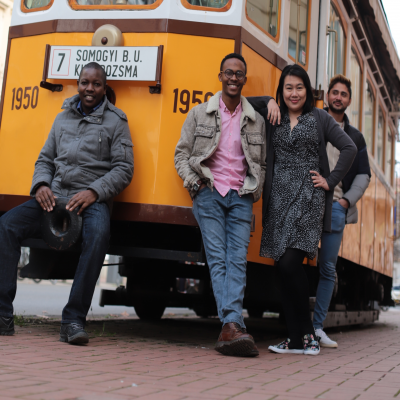 Scholarship & ERASMUS Students
Find the info if you are Scholarship holder or Erasmus student.

Accommodation for CEEPUS or ERASMUS Students
Accommodation can be booked for the first couple of days of your stay for a reasonable price in Tisza Sport Hotel. In case of a need, please contact Ms. Agnes Pető at peto.agnes[@]szte.hu. During the orientation you will have the chance to choose from different accommodation possibilities. ESN Szeged assists Erasmus Students to find the right accommodation via organizing "flathunting" in the first week, when mentors show the available flats. It's also a good opportunity to find flatmates. Keep an eye on their Facebook group as we will announce all the details of the flathunting there.
Accommodation for Scholarship Students

Student residence is mainly provided to those international students who hold a Hungarian governmental scholarship (Stipendium, SYCP, Diaspora, IISMA).
Please get in touch with your faculty and find the designated dormitory before your arrival to Szeged. Reserve your place as soon as possible to assure the availability of your place of residence immediately upon your arrival to Szeged.
See the list of dormitories and the relevant contact person below. In the dormitories students share their rooms with 1 or 2 students, and each room has internet access. These dormitories also provide facilities for sports, cultural and other social events.
List of dormitories:

Apáthy István Kollégium
Pictures

Gallery



Address

6720, Szeged, Apáthy u. 4.
Map


Click on the picture to open the map

Contact

molnarne.gavaller.aniko@med.u-szeged.hu
Introduction

Situated in the proximity of Szeged Dóm, the dormitory is opened for students principally studying general medicine.
Number of houseroom

234
Bedrooms

Bedrooms of 3 beds are available, equipped with furniture and internet access.
Other rooms

Shared kitchen on each floor * Lounge * Studying room
Facilities
Wireless internet * Student Comittee organizing sporting and cultural events for the residents: freshmens' ball, championships, pass to the Szeged National Theatre performances; also washing facility and gym is available, but pay-per-use!)
Back to top






Herman Ottó Kollégium
Pictures

Gallery



Address

Szeged, Temesvári krt. 50-52.
Map


Click on the picture to open the map

Contact

iroda@ohsh.u-szeged.hu
Introduction

Welcome to at Herman Ottó Dormitory! The institue was opened in 1972, as the first dormitory of the country hosting married couples. We have been given the award of 'Excellent Dormitory' in 1979 and in 1984, and also 'Dormitory of the Year' in 1997.
Number of houseroom

322

Bedrooms

Bedrooms of 3 beds are equipped with desks, built-in cupboards and lavatory.
Other rooms

Library * Studio fully equipped with electronic devices * Field * Lounge * Gym
Facilities
Internet access is 50% on the 1st-5th floors, 90% on further floors. *


Back to top






Jancsó Miklós Kollégium
Pictures

Gallery



Address

6725, Szeged, Semmelweis utca 7.
Map


Click on the picture to open the map

Contact

molnarne.gavaller.aniko@med.u-szeged.hu
Introduction

The dormitory opened in 1953 in Szeged downtown, hosting students of Faculty of Medicine, Dentistry and Pharmacy. Educational institutions, shops, railway station are a few minutes away, within walking distance.
Number of houseroom

233
Bedrooms

Bedrooms of generally 4 beds are available, equipped with furniture and internet access.
Other rooms

Shared kitchen, bathroom and toilets on each floor * Studying room * Lounge
Facilities
Wireless internet * Student Comittee organizing sporting and cultural events for the residents: freshmens' ball, championships, pass to the Szeged National Theatre performances; also washing facility and gym is available, but pay-per-use!)

Back to top







Károlyi Mihály Kollégium

Pictures

Gallery



Address

6724, Szeged, Kossuth L. sgt. 74.
Map


Click on the picture to open the map

Contact

karolyi.mihaly.kollegium@gmail.com
Introduction

The country's largest dormitory located in Szeged, which is in the management of the University of Szeged in operation for more than 800 people. The two buildings - situated next to the most traded Avenue. They are easily accessible from the 1 and 2 tram.

Number of houseroom

600
Bedrooms

In the ten-floor building every floor has 26 rooms of 3 beds, with sink, internet connectivity, built-in wardrobe. In the hallways there are male and female sanitary facilities (showers and toilets) and kitchen equipped with gas stove, microwave and refrigerator.
On the third floor of the smaller building 18 four-bed rooms intended to accommodate students with a similar level as the ten-story building. On the levels below are the furnished tourist accommodations. The guest rooms are also in this building, which have a higher comfort level than the student rooms.

Other rooms

Each floor has a communal room, with television. The flow is assisted by two elevators. In the basement there is a laundry room, where four industrial washing machine can be operated for 24 hours.
Facilities
* The dormitory has its own newspaper
The dormitory also has its own traditional events
The dormitory organizes annual trip for students

Back to top







Madzsar József Kollégium
Pictures




Gallery




Address

6726 Szeged, Bal fasor 39-45.
Map


Click on the picture to open the map

Contact

kollegiumiszallas@gmail.com
Introduction

In the neighbourhood of the leafy Liget (Park) in Újszeged, the building of the dormitory merges the convenience of the suburbs, and also the proximity of city centre.
Number of houseroom

138

Bedrooms

Bedrooms of 2 and 3 beds available.

Other rooms

Computer cabinets with internet access * Lounge * Studying room * Conference hall
Facilities
Landscaped park * Bicycle storage * Each room is equipped with bed, desk, built-in cupboard. * Shared bathrooms, toilets on each floor * Shared kitchens are fully equipped (microwave, owen, pots, vessels)

Back to top







Mérnöki Kari Kollégium
Pictures

Gallery



Address

6728 Szeged, Kollégiumi út 11.
Map


Click on the picture to open the map

Contact

vargaz@mk.u-szeged.hu
Introduction

It was built in the middle of the '70s. With 260 houseroom on 3 floors the building is located in a park-area, 4-5 km away from Szeged city centre.
Number of houseroom

260

Bedrooms

Bedrooms of 3 beds are available, with a single and a bunk bed. Rooms are equipped with furniture and a fridge.
Other rooms

Shared kitchen * Dryer room * Studying room *Conference room
Facilities
Internet access * Shared bathrooms, toilets on each floor * Iron and ironing board available *

Back to top







Mezőgazdasági Kari Kollégium
Pictures

Gallery



Address

6800 Hódmezővásárhely, Petőfi Sándor utca 10-12.
Map


Click on the picture to open the map

Introduction

The four-storey dormitory is located in the city centre of Hódmezővásárhely. We are looking forward to hosting students from all over the world, who would like to take part in a small, cheerful and close-knit community.
Number of houseroom

~ 300
Bedrooms

Bedrooms of 3 beds are being renovated continually. Bedsheets, pillows and blankets are not provided!
Other rooms

Shared kitchen * Gym * Internet room * Amusement room * Lounge * Fenced outdoor field * Restaurant
Facilities
* Internet access in every bedroom *Each room is equipped with bed, desk, built-in cupboard. * Shared bathrooms, toilets on each floor * Shared rooms are being tidied by cleaning staff * Shared kitchens are fully equipped (microwave, owen, fridge) * Washing machines are provided on each floor * Entry system with camera * Parking facility

Back to top







Öthalmi Diáklakások
Pictures

Gallery



Address

6728 Szeged Budapesti út 5
Map


Click on the picture to open the map

Contact

othalmikollegium@gmail.com
Introduction

Opened in 1997 as a part of the University of József Attila, the dormitory is located in a green area, 15-20 minutes away from Szeged downtown. The dormitory consists of seperated flats to ensure personal privacy for students. A number of renovation were done (laminate floor, solar cells, new bathrooms, household energy system).

Number of houseroom

430

Bedrooms

As the dormitory consists of separated flats, the number of beds depends on the layout. 3 beds are available in one-room flats, and 1-2-3 beds can be found in three-room flats. Rooms and flats are fully equipped.
Other rooms

Field * Landscaped park *Bicycle storage
Facilities
Internet access * Bathrooms, toilets and kitchen shared within each flat * Iron and ironing board available * Washing machine * Pitches: basketball, volleyball, gym, ping-pong (seasonal championships are organized)

Back to top







Semmelweis Kollégium
Pictures

Gallery



Address

6725, Szeged, Semmelweis u. 4.
Map


Click on the picture to open the map

Contact

nasztorne.marianna@gmail.com
Introduction

Semmelweis dormitory is linked to the Faculty of Pharmacy, situated in the city centre, within walking distance from the academic buildings, railway station, River Tisza, shopping centres, clinics, and also the public transport is reliable.
Number of houseroom

204
Bedrooms

Bedrooms of 4 beds are available, equipped with furniture and internet access.
Other rooms

Shared kitchen * Studying room * Computer cabinet * Gym * Dining room
Facilities
* Internet access in every bedroom * Each room is equipped with bed, desk, fridge

Back to top







Teleki Blanka Kollégium
Pictures


Address

6725, Szeged, Semmelweis u. 5.
Map


Click on the picture to open the map

Contact



Introduction

The Teleki Blanka Dormitory is linked to the Faculty of the University of Szeged, Gyula Juhász Teacher Training College. It began operations in 1963,. The building is located in the heart of the city, within walking distance of the faculty's main building, the TIK (University Library) and undergraduate entertainment. The location of the institution is advantageous because the public transportation, grocery stores, restaurants, copiers are few minutes' walk away.
Number of houseroom

400
Bedrooms

The rooms consist of two four-bed sleeping rooms, which have a sink and refrigerator, desks and shared learning space.
Other rooms

The social rooms, toilets, showers equipped kitchens are located in the corridors. The building has an elevator, and three disabled rooms for disabled students.The building has an elevator, and three disabled rooms for disabled students.

Facilities
* 24-hour reception and lock system * Wireless Internet * During the school year, many sporting and cultural events are avaliable for the residents
In addition, the dormitory offers:
- Pass to the Szeged National Theatre performances
- pass the night to use the Anna Spa

Back to top