2021. January 15.
SZTE and it's EUGLOH partner Alliance, the Swedish University of Lund are organizing an E-conference on Policies and Definitions of Underrepresented Groups on 19. January 2021 at 13.00 (CET). One of the main goals of the Alliance is to form an international campus with unified and equal rights and opportunities for all students and staff.
Participants will have the chance to gain more insight on the status and support of underrepresented groups introduced by the panellists, and have the opportunity to share their own insights and experiences on the subject. First panellist of the webinar is Dr. Zoltán Bajmócy, Vice-Dean for Scientific Affairs at the SZTE's Faculty of Economics and Business Administration. Other panellists are the student delegates of the Christian Roma College of Szeged and a delegate of the SZTE's Student Counselling Centre, which – amongst other tasks – support students with learning difficulties. It is of utmost importance to discover how the students relate to and experience the matter of underrepresented groups, therefore the event will feature student testimony videos from all EUGLOH campuses.
Hearing impaired viewers will be aided by sign interpreters in multiple languages. A Q&A section will close the event where all viewers will have the opportunity to ask questions to any panellist.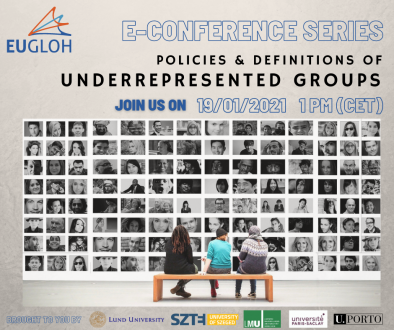 The E-conference on Policies and Definitions of Underrepresented Groups is a part of a EUGLOH event series, held every two months on a relevant subject of equal opportunities.
Registering is possible via this link for anyone interested in the subject.