2019. May 30.
The six research teams, that started their work in May with the support of the Hungarian Center of Excellence for Molecular Medicine (HCEMM), were presented at a press conference on May 28, at the University of Szeged. The first six research teams in the international project started their work in the field of cardiovascular, metabolic diseases, inflammatory and immune diseases and cancer.
The main activities of the excellence-based research and service centre which was created in Szeged, is researching the causes of the widespread diseases, its healing, its diagnostics and prevention. The budget for establishing the center of excellence is 15 billion HUF by 2024. By now is the highest amount awarded of Horizon 2020 support with Hungarian coordination, with contributions from the National Office for Research and Innovation and from the own contribution of the participating institutions - University of Szeged, Semmelweis University, Biological Center of Szeged, European Molecular Biology Laboratory (EMBL) on the basis of a government decision.
Prof. Dr. Márta Széll, Vice-Rector for Strategic Planning at the University of Szeged emphasized that almost 100 years of medical activities at the University of Szeged is an integral part of the Hungarian Center for Molecular Medicine's Excellence Center (HCEMM), which aims to understand and cure the widespread diseases. The research community of SZTE has been working closely with the Biological Research Center of Szeged for decades, so it was obvious that the application was submitted jointly with the Research Centre, the leading research institute in the country and the Semmelweis University.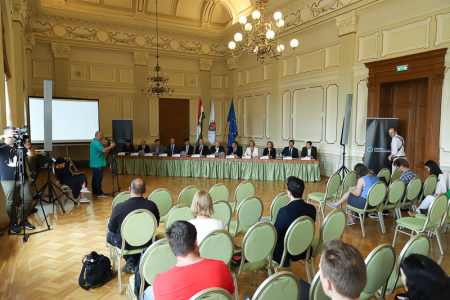 Gallery
Prof. Dr. Lajos Kemény, Head of the Department of Dermatology and Allergology at the Szent-Györgyi Albert Clinic Center of the University of Szeged, is supported as a dermatologist at the University of Szeged. The winning team examines the role of the most important epithelial cells in the functioning of the skin's immune system and the development of a common inflammatory skin disease, psoriasis. - About 2 percent of Hungary's population is affected by psoriasis.
HCEMM participants, the University of Szeged, as well as the Biological Center of Szeged are more likely to be involved in high prestige European projects and increase their international visibility.