2019. June 11.
On the U-Multirank ranking that is supported by the European Union, the University of Szeged was again marked with an excellent ranking. The international ranking ranked higher education institutions in 96 countries, including 15 Hungarian universities by more than 30 indicators. SZTE was ranked the best in the field of knowledge transfer.
The international U-Multirank ranking began to measure the world's higher education institutions in 2014. The aim of the European Union was to create a multi-dimensional university ranking that helps students studying abroad to choose a higher education institution. That is why the ranking is not only based on a few aspects, but also takes 36 indicators into consideration in five focus areas. They take into account the research and educational activities of the higher education institutions, their regional role, their international visibility and the results achieved in the field of knowledge transfer.
In the 2019 ranking, 1711 higher education institutions from 96 countries were ranked, among others in Sweden, Japan, Russia, Portugal, and Namibia, Malaysia and Iran. 15 Hungarian universities participated in U-Multirank, including the University of Szeged.
SZTE was the most successful in the field of knowledge transfer. In this field, the University was ranked the best in terms of the index of publications with partners and cited publications. The University of Szeged holds a prominent position in the field of research as well. The number and quality of both professional and interdisciplinary publications were featured efficiently at the University of Szeged.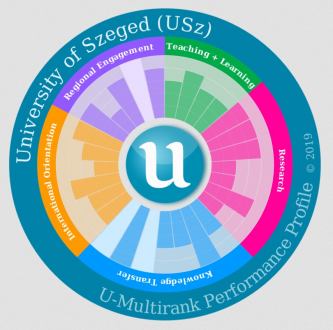 As for regional engagement, it can be clearly demonstrated that the proportion of students being employed in the region as SZTE- graduates is high. The survey also shows that the University of Szeged performed outstandingly well also in terms of joint publications with industrial partners in the region.
The international U-Multirank ranking has also rated the University of Szeged in several disciplines, including Biology, Chemistry, Information Technology and Mathematics. The institution has performed outstandingly in many areas. Detailed results are available here.