2019. July 02.
Szeged becomes the focal point of attosecond science between 1 and 5 July where around 400 researchers arriving from 29 countries joins together to discuss the latest results of attosecond science and technology.
The international Attosecond Science and Technology conference is organized in every two year; its organizing committee is made up of 29 internationally recognized authorities, its co-presidents are Professor Katalin Varjú, Chair of ELI-ALPS and Professor Dimitris Charalambidis, Chief Scientific Advisor of ELI-ALPS. 93 lectures will be delivered and exhibitions of 22 sponsors will be presented in the program. Participants have the opportunity to get to know the history of Szeged and Hungary as well as their culture, architecture and gastronomy.
Guests were welcomed by Prof. Dr. László Rovó, Rector of the University of Szeged at the opening event of the conference on 30 June. He highlighted that the University of Szeged is one of the most prestigious universities in Hungary with twelve faculties and more than 300 study programs. In order to keep the pace of the rapidly changing world and maintain a continuous improvement, the institution needs partners. While the University of Szeged cooperates with hundreds of organizations in Hungary, the international education requires international partners when conducting research, healing patients and educating students. As laser physics is a priority at the SZTE, the ATTO conference provides an excellent opportunity to expand the international network of the University. The most important element of the relationship with ELI-ALPS Research Institute is the Science Park located next to the laser centre, which might house leading Hungarian and international businesses.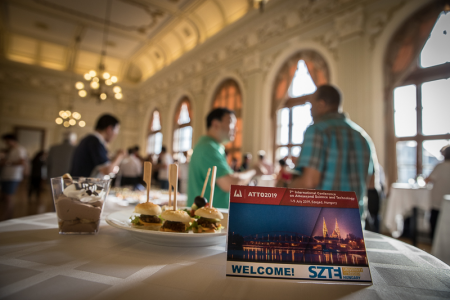 Pictures taken at the event are available here.
The ATTO 2019 conference is being held in Attila József Study and Information Centre. The University of Szeged is one of the prominent scientific partners of ELI-ALPS and this particular conference offers a new horizon of co-operations. The organizing committee appointed 19 researchers to describe their findings with a significant effect on attosecond science, such as attosecond pulse generation and characterization, high-order harmonic generation and applications, ultrafast phenomena on the attosecond and femtosecond timescales and next generation drivers for attosecond pulse and high-order harmonic generation. 74 out of 300 submitted abstracts will be delivered as a lecture as well.
Attosecond science is a relatively new and fast-evolving area existing since 2001. The first ATTO Conference was held in Dresden in 2007 with a handful of researchers, now 400 participants attend this event in Hungary to discuss new findings since the last conference held in Hsian, China in 2017.
SZTEinfo

Photos: Anna Bobkó