2018. April 27.
Wine of the Wise were introduced at a wine tasting press conference. 40 types of wine of 15 winery contested and 8 out of them were awarded with the 'Vinum Academiae at Universitatis' title at the wine selection for 2018 jointly organized by the University of Szeged and the Board Members of MTA of Szeged.
The Vice Rector for Public Relations welcomed the promoting work of the wineries. According to Professor Tamás Martinek, selecting the Wine of the Wise contributes to scientific dissemination and popularity of wine culture.
The title pf 'Premium White Wine of 2018' was awarded to 'Nyulászó Hárslevelű Furmint 2015' of Szent Tamás Vineyard & Winery, while the best red wine is 'Chef 2011' by Dániel Winery.

Faculties of SZTE also have their own wine: Tringa Winery's Cabernet Sauvignon 2013 is the premium red wine of the Faculty of Law and the abovementioned white wine awardee belongs to the Faculty of Medicine.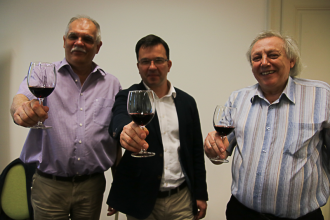 Certificates of 'Vinum Academiae at Universitatis' were delivered by Professor Gábor Tóth, head of the joint wine tasting committee of SZTE and MTA. Wines assigned the 'Wine of the Wise' label can be tasted at E4 stall during the Annual Wine Festival of Szeged in Széchenyi square.