2018. March 02.
On 28 February 2018, our University and the Faculty of Law and Political Sciences hosted the new Turkish Ambassador in Budapest, HEM Ahmet Akif Oktay, who began his post this year.
As the Ambassador pointed out during his meetings with the management and leadership of the University and the Faculty of Law and Political Sciences, he has already been to many university cities, but Szeged is the first town, where as part of the official visit he is also going to hold a lecture. Prof. Dr. Krisztina Karsai, Vice Rector for Education and Prof. Dr. László Trócsányi and dr. Márton Sulyok introduced the internationalization strategy of the University, then the English-language programs of the Faculty of Law in the field of law and international relations as well as those programs on other Faculties that have Turkish relevance.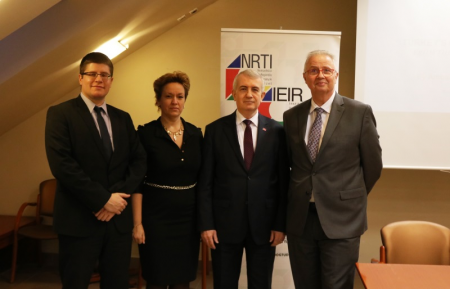 His Excellency assured the University that from the Turkish part there is definite willingness to strengthen educational cooperation, to which our active Erasmus links are already a good example. In the next part of the afternoon visit, His Excellency talked about the development of Turkey's external relations as part of the Academic Lecture Series of the Master in International Relations program coordinated by the International and Regional Studies Institute. In his lecture, the Ambassador described how Turkish foreign policy became regional from local, then global through historical development. Besides historical examples, Ambassador Oktay spoke of the country's situation through economic indicators and the gradual increase of Turkey's international role in a multilateral framework.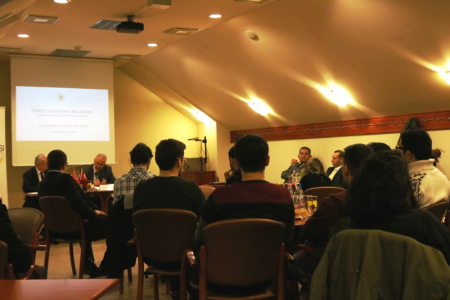 Prof. Dr. László Trócsányi, a professor of the Faculty of Law and Political Sciences, sitting minister of justice moderated the lecture of the Ambassador, who also previously served as an Ambassador himself in Paris and in Brussels, thus knows and follows events of international diplomacy. Trócsányi asked His Excellency about the geopolitical situation of Turkey, and her relationship with the EU, along with the Turkish public opinion on the Union. The students asked questions regarding Turkey's migration policy and the refugee situation. The issue of Cyprus was also mentioned among the questions as well as Turkey's role in the NATO.