2018. July 05.
Around 6,000 pages of documentation, a 4-hour-long negotiation – the new leadership of the University of Szeged has been introduced. Prof. Dr. László Rovó was appointed the Rector of SZTE for the upcoming four years from 1st July 2018 and introduced the newly-elected Vice-Rectors on a press conference.
'The previous leadership of one of the most prestigious universities has passed the baton to the new leadership. The procedure embodied in 6,000 pages of documentation during a 4-long-hour meeting on the 2nd of July' – said Dr. Judit Fendler. The Chancellor of the University welcomed the new rectoral leadership.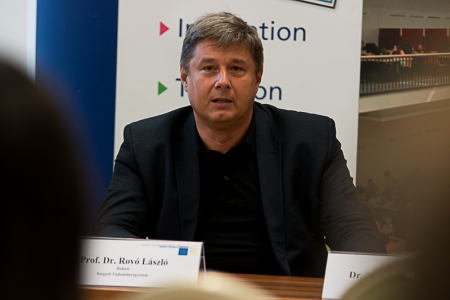 'Leading is not a lonesome assignment as the management of the University of Szeged requires a complex and effective cooperation' said Prof. Dr. László Rovó.
The recently elected Vice-Rectors were delegated from different faculties and fields of disciplines. The Rector stated that he had requested recognised scholars to be appointed vice-rectors.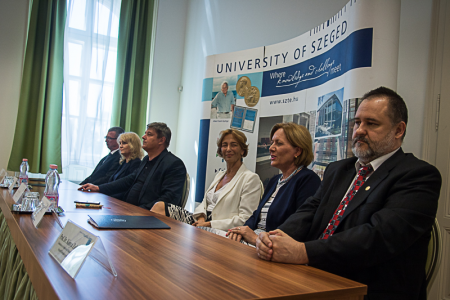 Prof. Dr. Márta Széll, head of Department of Medical Genetics, was elected Vice-Rector for Strategic and General Affairs. The microbiologist said that she was born and raised in Szeged and spent 11 years in the Biology Research Institute of the Hungarian Academy of Sciences in Szeged. From 1999, she joined the educational and diagnostic research of the University. Her being the former Vice-Dean for Scientific and Foreign Affairs she benefits from the experience she gained in the past.
Dr. habil Klára Gellén is to be the Vice-Rector for Education from the Faculty of Law and Political Sciences. Among others, her successful ventures were the realization of the e-learning content and the tutoring system supporting high school students. Comptetitiveness, increasing the number of students and internationalization are her main priorities.
The newly-elected Vice Rector for Science and Innovation is the head of the Department of Applied and Environmental Chemistry, Prof. Dr. Zoltán Kónya from the Faculty of Science and Informatics. He earned his doctoral degree at the University of Szeged and he appreciates industrial projects. He identified the increase of SZTE's international visibility as a vice-rectoral aim.
The Rector appointed Dr. habil. Péter Zakar as Vice-Rector for Foreign Affairs and Public Relations in order to promote effective and integrative cooperation between the University of Szeged and its region. The historian of the Faculty of Arts was teaching at Juhász Gyula Faculty of Education as well as he was the Vice President of the General Assembly of Csongrád County between 2006 and 2014 – therefore he is likely to make full use of his experience regarding international and public affairs.