2018. April 25.
His Excellency Rahul Chhabra, Ambassador of India to Hungary visited the University of Szeged for the second time. The diplomat got to meet Indian students and he delivered a lecture on the relationship between India and Hungary. Within the framework of SZTE University Spring Festival, the visit was closed by an Indian dance and music performance.
The Ambassador of India, his wife Kavita Chhabra and T.P.S. Rawat, Director of Amrita Sher-Gil Cultural Centre of the Embassy of India visited Szeged on the 18th April. The Ambassador met Indian students in person and discussed, among others, meaningful issues, such as Stipendium Hungaricum scholarship programme and migration throughout the world. After the Ambassador's lecture on the relationship between India and Hungary, Kavita Chhabra invited the audience to learn more about Indian artists, paintings and the Indian history of art. A classical kathak dance performance was presented by Saumya Shukla and Rajesh Gangani made an appearance with a tabla musical performance at the end of the event.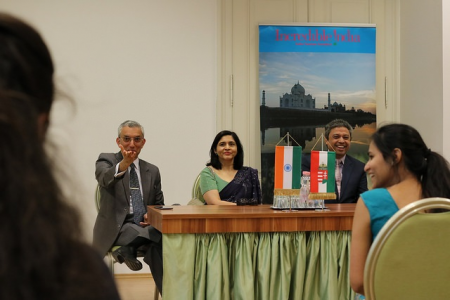 Photo gallery
'It was my pleasure to come back to Szeged and the University. This was the fourth time in the city and I am always delighted to meet Indian students. I participated the International Cultural Night last year and I was glad to learn that many nationalities are present at the University of Szeged. In my thinking it can be attributed not only to the beauty of the town, but also to the high standard of academic work at SZTE. The University of Szeged is widely known and popular in India, as a result more and more Indian students come and study in Szeged. Students are satisfied with the education, they consider Szeged as a friendly place to live. However, many of the Indian students think that they have to study Hungarian once they arrive to Hungary; this is not true as many of the study programmes are offered in English and students can choose from a great variety of excellent programmes' said His Excellency.
'Such visitations at the University of Szeged are important for me as I can meet other students from all corners of the world, and I have an opportunity to talk to Hungarians about India, its culture and current issues related' he added.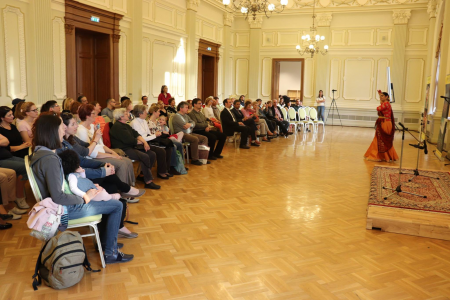 Photo gallery
The number of Indian students is continuously growing at the University of Szeged: while it was 12 in the AY 2014/2015, 63 students are studying at SZTE in the AY 2017/2018.
More pictures
here
and
here.
Translated by Enikő Braun