2015. January 21.
Photos have been sent by readers from all over the world to add to the list of libraries of BoredPanda. In the selection of buildings, the Klebelsberg Library of the University of Szeged was ranked the 7th most beautiful by the szeretlekmagyarorszag.hu.
Impressive buildings and enchanting interiors – says the szeretlekmagyarorszag.hu. According to the ART:BLOG heading, http://www.szeretlekmagyarorszag.hu/a-vilag-20-legcsodalatosabb-konyvtara that starts with the photo of the National Library of Prague, the Klebelsberg Library was ranked 7th most magnificent. The next in the line are the St. Floriane Monastery in Austria; the Biblioteca Real Gabinete Portugues De Leitura, Rio De Janeiro, Brazil …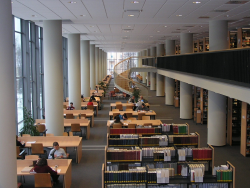 At the same time in the source article, http://www.boredpanda.com/extraordinary-libraries ,the SZTE Library - with a not so recent photo - ranked 43rd place in the list of 50.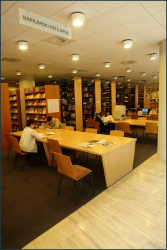 "We are very proud that our good and nice library is in the spotlight again" – commented on the news Katalin Keveházi. The director general of the Klebelsberg Library of the University of Szeged added: "it is not clear upon what aspects this new international top list is made up, but it reflects the enthusiasm of readers who uploaded the photo of the Attila József Study and Information Centre (JATIK) that celebrated its tenth birthday in December 2014 and which houses the library.
"The Attila József Study and Information Centre (JATIK) and the SZTE Klebelsberg Library operating within its walls was listed among the fifty most extraordinary libraries of the world by the BestMastersPrograms.org – which is an online guide for masters studies." – as we published on 18th of January 2013. The article based on the http://www.bestmastersprograms.org/50-amazing-university-libraries/ is available on the SZTE News portal: http:// www.u-szeged.hu/sztehirek/hirarchivum/2013-januar/top-50-ben-tik
The ten year old SZTE TIK is home to the Klebelsberg Library, on its webpage you can get information and look at posted photos of the world famous bibliotheca of university students and instructors: http://virgo.bibl.u-szeged.hu/~kokas/kvtar20051229/, you can gain information about the world-class facilities at: http://ww2.bibl.u-szeged.hu/index.php.

SZTEinfo, Dr. Apjokné Mécs Erzsébet