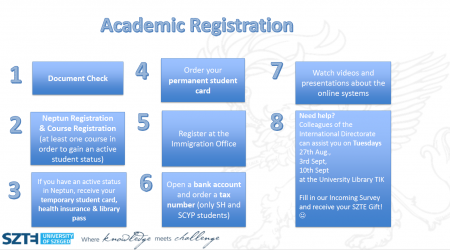 Click on the picture to enlarge.

1. Document Check
Newly admitted students should visit their Faculty in order to have their data checked by presenting the original academic and identity documents (if not sent to the Faculty in advance). At the end of this process enrolled students sign their Academic Registration Sheet and receive their Neptun Code/ID.
2. Neptun Registration & Course Registration
Neptun is an online system with many functions. In order to have access to the online system you will be provided with a NEPTUN code upon registration. The first step is to log in to the system by using the data indicated on your Academic Registration Sheet. You will use Neptun to register for your subjects, exam dates and in some cases even to settle your finances. Your exam grades will also appear on the Neptun system along with your class schedule, gradebook and many others.
In order to gain active student status, it is required to register for at least one course in the given semester in Neptun.
3. Receive your Temporary Student Card, Health Insurance Card and Library Pass
Once you're ACTIVE you may proceed with the following:
At the Students' Service Office (HSZI), Library (TIK) Ady tér 10.
Temporary Student Certificate (A4 paper, "ideiglenes diákigazolvány")
Health Insurance – Generali Studium (we recommend you to sign up for this particular insurance package, but you are free to use any type that fits your needs). Read more information here.
At the Library Help Desk, Library (TIK) Ady tér 10.
4. Order Your Permanent Student Card
In case of longer stays (in excess of 1 year), application for a permanent student ID is recommended.
Along with your passport and the certificate of university attendance (certificate about active student status) you will need to go to the Government Office (KORMÁNYHIVATAL at Rákóczi square) where your personal data will be registered, a picture is going to be taken and where you will be provided with the NEK certificate (ADATLAP). This certificate needs to be taken to the Student Service Office (HSZI) who will order your card.
5. Register at the Immigration Office

Students from
EU countries and EEA
are obliged to declare their address (latest within 15 days after the arrival in Hungary!).
Non-EU Students have to arrive with a D/student visa which is valid for 30 days. In this case, you have to declare your address and submit the required documents at the Immigration Office within 3 to 5 days after your arrival.
For more information please visit the following site.
6. Open a Bank Account and Order a Tax Number
Students taking part in the Stipendium Hungaricum and the Scholarship Programme for Christian Young People will also need to open a bank account and order a tax number. For more information please visit the following site sor check out our presentations.
7. Watch videos and presentations How to Use the Online System
In order to assist you in the acadenic registration process and to show what the different online systems are used for, we have prepared a few videos for you:
8. Need help?
Do you need help in registering to the systems, filling in forms, making appointments?
On the Orientation Days assistance is provided on various issues by the International Directorate:
filling out forms for Officials (Request for Residence Permit, Accommodation Reporting Sheet, Certificate for Contact Address)
registering to online systems
getting appointments
You can meet our colleagues on the following days at the University Library:
27th August, 2019,
3rd September, 2019
10th September, 2019
Here you can also:
Receive a Checklist about the steps of your Enrolment
Meet fellow students, mentors, colleagues of the Directorate for International Relations.
Fill in our Incoming Survey and receive your SZTE Gift
Find out more about the SZTE + Programme
Useful links: