Out-patient care is held at the consultation rooms of the Clinic Building after scheduled reservation. For Hungarian citizens, a reference letter is required for the Otrhopaedic Department.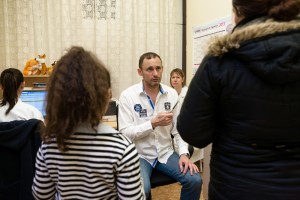 Data required for the referral letter:
- name
- TAJ number (social insurance number)
- date of birth
- description of complaint
- chosen physician (optional)
All our doctors of the Orthopaedic Department are available for out-patient consultation. If you are a new patient of our department, you will need to make a booking for the consultation. If you would like to chose a certain physician, you will be informed when that particular doctor holds his/her consultations.
In case you would like to have an urgent consultation, our staff will try to find a date for you as early as possible – in this case you will not have a chance to chose a particular physician.
Choosing your doctor
If you would like to chose a certain physician, you can. During the booking process you can tell this, and you will be informed of the date when the doctor is available for you. This first information is only referential and can change. When the booking is done, you will be informed of the exact date.
Consultation days of the doctors:
Monday

Tuesday

Wednesday

Thursday

Friday

Ildikó Fiszter MD

Krisztián Sisák MD

Ferenc Greksa MD

Gellért Sohár MD

András Gyetvai MD

László Arany MD

Ildikó Fiszter MD

Ernest Nagy MD

Ildikó Fiszter MD

Csaba Hován MD

Zsolt Szerényi MD




Hristifor Gálity MD

András Bozó MD

Csaba Gombár MD




Zsolt Szerényi MD




Melinda Ugocsai MD



Useful informations
NECESSARY DOCUMENTS
Hungarian residents need a reference letter for the Orthopaedic Department, or an previous medical documentation. You will need your personal documents (ID and residential card) and your social insurance card (TAJ card). In all cases, patients have to arrive to the admission office first. Later at the consultation room, you will have to show the reference letter and other medical documents to the assistant.
It is advised to bring former medical documents, X-rays, CT or MRI scans with you. If you have these images on a CD, bring them with you.
After the out-patient consultation, you will be given an out-patient report. It is advised to show this to your general physician (family doctor).
Further examinations
After surgeries and examinations, your doctor may ask you to come back at a later time for further out-patient examination. In these cases your doctor will tell you the date of the examination, so you won't need a scheduled reservation (booking) from the admission office.