The Department of Orthopaedics, University of Szeged is an independent institute since 1989.
Out-patient unit
The Orthopaedic Department treats about 20 thousand cases per year. All physicians of the department hold out-patient consultations regularly. The "New Clinic" hospital building provides all major imaging procedures (X-ray, MRI, CT) if prescribed by a doctor, which are free for Hungarian patients having social insurance. There are 4 consultation rooms at our department, located on the 3rd floor and on the basement level (wing "B") of the New Clinic Building.
In-patient unit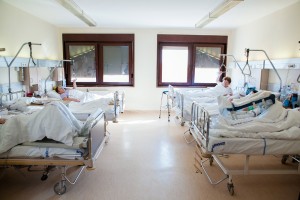 Our in-patient unit consists of 60 beds, used mainly for patients spending a few days in hospital after the surgical procedures. Also there is limited availability for post-surgery rehabilitation treatments. Nearly 2.000 surgeries are performed annually at the Orthopaedic Department. Most of these are total hip and total knee replacements (endoprosthesis inplantation). The in-patient unit of the Orthopaedic Department is located on the 3rd floor wing "D" and "E" of the New Clinic Building consisting of 8 six-bed and 8 two-bed rooms. In 2012 our department has recieved 4th place among hospitals in the national ranking for nursing category, proving the hard work of our nurses.
Surgery rooms
All 4 surgery rooms of the Orthopaedic Department are ready for all procedures concerning locomotor disorders. Our endoprosthesis surgery room is one of the latest and most modern one in Eastern Europe.
Physiotherapy unit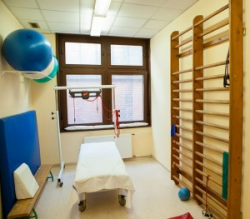 A complex physiotherapy unit is available on the ground level of the building for patients requiring such treatments. Depending on the type of surgery, patients recieve physiotherapy and medical excercise conducted by our physiotherapists either as an in-patient or as an out-patient case. Unit staff consits of a physiotherapy nurse, 4 physiotherapists, and numerous physiotherapy students.