Veeva
Veeva is a mission-driven organization that aspires to help our customers in Life Sciences and Regulated industries bring their products to market, faster. We are shaped by our values: Do the Right Thing, Customer Success, Employee Success, and Speed. Our teams develop transformative cloud software, services, consulting, and data to make our customers more efficient and effective in everything they do. As a Public Benefit Corporation, you will also work for a company focused on making a positive impact on its customers, employees, and communities.
The Switch
Soon after switching majors from Pre-Pharmacy to Healthcare Administration, I realized I wanted to go into consulting. My goal was to go into software consulting, but I had little to no experience in the field. I discovered Veeva one random day as I browsed through LinkedIn. It had come up under, "Jobs you may be interested in" I recognized most of the companies until I saw an orange V. I hadn't seen it before and my curiosity led me to look into the role a bit more.
Flash forward to present day: At Veeva I serve as an Associate Consultant, helping deliver our Vault Regulatory Information Management (RIM) suite to customers. This product allows our customers to track submission documents, product registration documents, and interactions with the health authority in one cloud-based platform.
You are the captain of your own ship
As an Associate Consultant at Veeva, I am part of the Generation Veeva Program. This program is specifically for new grads that want to grow their careers in either consulting or software engineering. One of the first events I attended after joining was Generation Veeva (GV) Connect. GV Connect is an annual event for all of our current members of the Generation Veeva Program. This event is meant to bring everyone together for a weekend of learning and fun, as well as making connections with one another.
Throughout GV Connect we get to hear a lot of insight from our leadership team. Through the various keynotes, there were two quotes that really hit home for me. Our CEO and Founder of Veeva, Peter Gassner said "You are the captain of your own ship" As soon as I heard Peter say this, it stuck out to me, but I wasn't too sure of its true meaning. It wasn't until a few weeks after GV Connect had passed did I see that quote resonate with me. I saw an opportunity arise to switch the product line I was working on from domains from Quality to Regulatory. I brought this opportunity up during the next meeting I had with my manager (shout out to Jared Baum!) I mentioned the idea of exploring different domains since I knew our Regulatory Team needed help.
My manager, Jared was fully supportive of me discovering this opportunity and wanting to go after it. We immediately worked together to plan the next steps in getting me familiar with the submission process for the Life Sciences Industry.
It was only two months into my role and I was given the opportunity to attend the Regulatory Affairs Professional Conference Society Conference. This was possible through a program Veeva has, called 2% — this is an allowance we each have to put towards any type of educational or professional development we see needed to grow in our role. This conference is what deepened my knowledge of how the Life Science Industry companies build submissions to submit to the health authority. Alongside the support of my manager, this experience really helped me to continue growing and even more so not to be afraid to take on new challenges.
Get comfortable being uncomfortable
Now moving on to the second thing I heard — "Get comfortable being uncomfortable" This came from our Senior Vice President of R&D Services, Howie Hsueh. Hearing this quote at first definitely made me uncomfortable, how ironic. Howie further explained that we as consultants are going to be in situations where we will be put on the spot. This could happen at any given time, whether that be at a customer workshop or an internal meeting. In situations like this, we may not always know the answer, or we may know the answer, but not be comfortable voicing it. So we have been taught…
…it's okay to say 'let me follow up on that'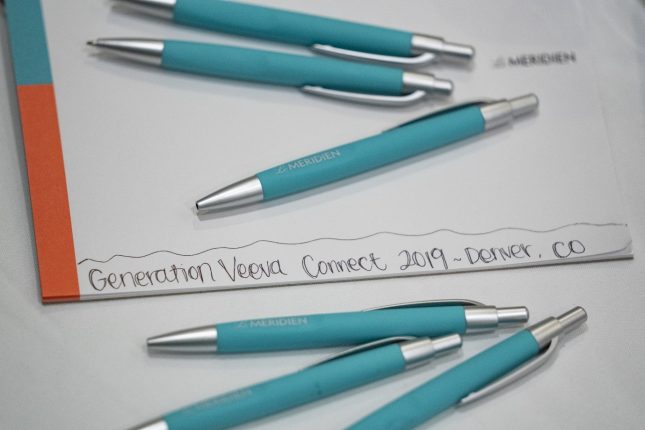 Howie made note that we are not perfect. We don't know how we'll react in a situation until we are faced with it. When those times come, it's okay to not always have an answer.
Some of you might think that this was obvious and why am I making this point? Well, because it was not that obvious to me…
The pressure to give an answer when I wasn't completely confident trickled away. I was comfortable knowing that I would be doing the right thing for our customers by taking that extra time to do it right.
Starting a new job can be scary, but from day one at Veeva I constantly felt the support from my colleagues and management team. I look forward to all the good experiences and the hard ones as I continue to grow in this program and my future as a Consultant at Veeva.