Up-to-date infusion medical drug pumps were given to the Children' Intensive Care Unit Albert Szent-Györgyi Health Centre of the University of Szeged. These devices were financed by the financial contributions of 2,1 million HUF from the III. 'Gumikacsa' Rotary Charity Event.
The Children' Clinic were delivered four infusion medical drug pumps that will be used at the Intensive care Unit. Three of them are already in use, while the fourth device will be given to the Clinic this spring. Owing to the devices, children in serious or life-threating medical condition might recover in relative comfort.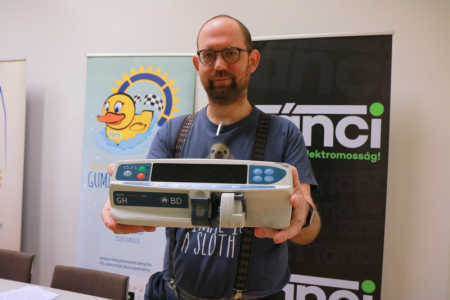 'The patient care at the Children' Clinic is at the European level, thus continuously requires up-to-date tools following the latest technology. The advanced medical drug pump is a valuable help' said Csaba Bereczki, director of the Children' Clinic.
'The main purpose of the event called III. 'Gumikacsa' Rotary Charity Event was to support the Intensive Care Unit of Albert Szent-Györgyi Health Centre, hence promoting a patient care with modern medical devices' said Mónika Gortva-Kónya, president of the Rotary Club Szeged Dóm. She added that the Rotary Club intended to continue the Gift of Life programme jointly with the Clinic to save the lives of ethnic Hungarians across the border. The Club supports the Clinic with storytelling events as well.
SZTEinfo
Photo: Anna Bobkó