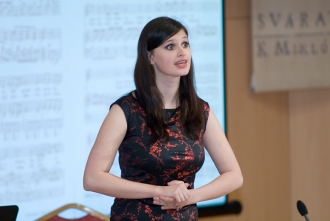 About the programme
The MA programme in Classical Singing is designed to provide students with basic theoretical subjects such as literature, prosody, history of art, stylistics, music history, folk music, composition theory, concert visiting, composition practice and analysis. Applied subjects such as song performance, rehearsal, chamber singing and performing are also provided during the programme in addition to other fields, depending on the specialisation.

The programme's rigorous coursework develops abilities of solo singing, chamber singing and performing. Graduates of the Faculty pursue careers in opera houses or in theatres.
Specialisations: Opera Singing; Oratorio and Song Performance
Level of the programme: Master
Duration of the programme: 4 semesters
Registered in: EU
Credits: 120
Who should apply?
Application requirements: fully completed application form, BA degree in Performance*, a demonstrated proficiency in English (B2/Intermediate), and online entrance exam.
Start of the programme: September of each year
Tuition fee: 2500 EUR per semester
Application fee: 35 EUR
Entrance Exam fee:
100 EUR
For more information visit our website and contact Ms. Renáta Dékány via e-mail or call +36 62 544 602.
*
Academic Records: an official English version OR translation of your Bachelor's degree.