Temporary Student ID
Required documents: an activated EHA-code (following the Neptun registration) and a valid passport.
This verifies your student status at the university, until the permanent ID card is made. The temporary student ID is valid for 90 days, and if necessary this can be prolonged for other 90 day periods, until your permanent ID card is ready.
Permanent Student ID
In case of longer stays (in excess of 1 year), application for a permanent student ID is recommended.
Process of application:
You will have to go to the "Csongrád Megyei Kormányhivatal" (Government Office of Csongrád County) where your photo and signature will be taken.

Address: 6722 Szeged, Rákóczi tér 1.
Dates:

Sept. 10 (Tuesday), Sept. 11 (Wednesday): 08.00 – 19.00
Sept. 17 (Tuesday), Sept. 18 (Wednesday): 08.00 – 19.00
Sept. 24 (Tuesday), Sept. 25 (Wednesday): 08.00 – 19.00
Oct. 01 (Tuesday), Oct. 02. (Wednesday): 08.00 – 19.00

Please pull a number at the Information desk and go to 1st floor, counter No. 25.
On the aforementioned dates, an English-speaking administrator is provided by the Government Office.
In case of group arrivals (groups of 5-10 people), the coordinator should make an appointment at the Government Office.
Documents needed for the procedure:

School certificate (certificate of university attendance)
Original identification document(s) (passport / ID )

After registering your personal data, a form will be given to you, which should be taken to the Students' Services Office (HSZI). For students of the Faculty of Medicine, the form has to be submitted to the Foreign Students' Secretariat.
The actual application costs 1400 HUF. This fee can be paid on the spot by credit card or at the post office by cash.
The Students' Services Office (or the Foreign Students' Secretariat) will inform you if the permanent student ID is ready.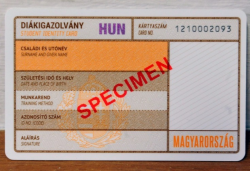 It is mandatory to hold a student ID card, as it is the only way of proving that you have an active status at the University. It also entitles students to enjoy a number of discounts in many services and places. You will also need a valid (at least temporary) student ID for buying or applying for a monthly student pass, which might be useful for international students.