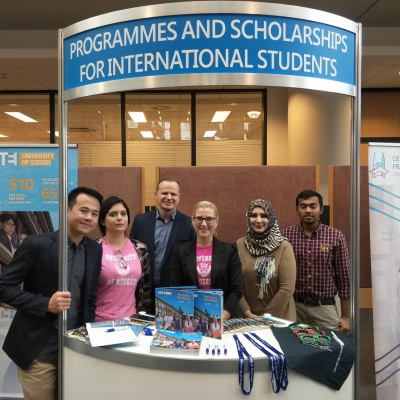 Orientation Week
Details of the Central Orientation organized by the Directorate for International Affiars and Public Relations.

The University of Szeged warmly welcomes its international freshmen students at the start of the new academic year each year. After an official welcome by University leaders on Monday, the following days are dedicated to a variety of orientation programs including useful information sessions, cultural and recreational activities.
Watch the video about SZTE Orientation 2021 here.

Around 1000 international students are expected to start their studies at the University of Szeged in September. We are well aware of how hard it can be for students to leave their familiar environments to embark on the next step in their educational journey. That is why each year we organize our Orientation Days to help international students get involved with our university's culture by creating a welcoming atmosphere and providing all necessary information they need for a successful and stress-free start of their studies in Szeged.
The official opening ceremony is organized on Monday the 6th of September, 2021, starting at 9.30 am. Our students are greeted by the leadership of the University who will deliver an opening speech. As part of the day's further program we will hand out the SZTE Start Scholarship Award letters, and introduce our colleagues working at the Faculties and the Directorate for International Affairs. A photo shooting is also planned to create lifelong memories of the start of the studies at the University.
Students will also have the opportunity to familiarize themselves with the many different services offered by the University, from Student Counseling through the Foreign Language Centre to our Alma Mater unit. On top of that there will be several useful information sessions held by the Police, our ESN Mentors, and the Office for International Student Mobility.
Due to the ongoing pandemic situation, this year is an exceptional year for all of us. Therefore the University would like to offer a special celebration to its courageous freshmen by organizing an Oath of Freshmen in front of the leadership of the University, followed by a superb outdoor party.
The declared intention of the orientation is to make the newcomers feel part of what we call the biggest community in town. The integration of the international students is also assisted by this website providing crucial information to start their studies at the University of Szeged. We can't wait to see you there!
Registration form will be open soon and can be accessed here!

Central Orientation 2021 Programme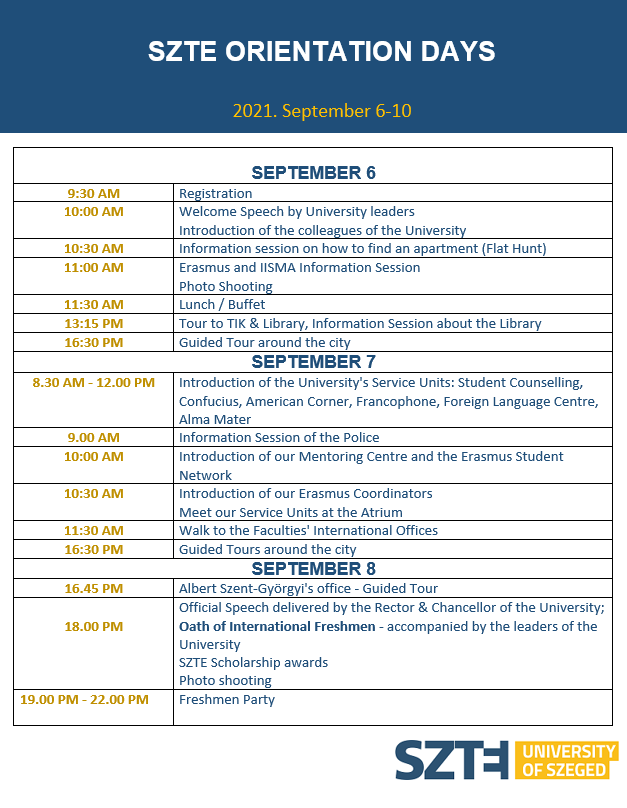 The event will mainly take place at the University of Szeged Central Building, the Rector's Department.
These programs are part of the central orientation week. For Faculty based orientation please contact your Faculty.
On the rest of the weekdays of the Orientation, the 9th and 10th of September, the Erasmus Student Network (ESN) organizes events for freshmen such as outdoor picnic and welcome night to support the start of their studies and their orientation.
Do not hesitate to contact us if you have any questions: international@szte.hu